How did I get here? Lad blacks out in Glasgow, wakes up in Amsterdam
Published time: 22 Feb, 2016 17:33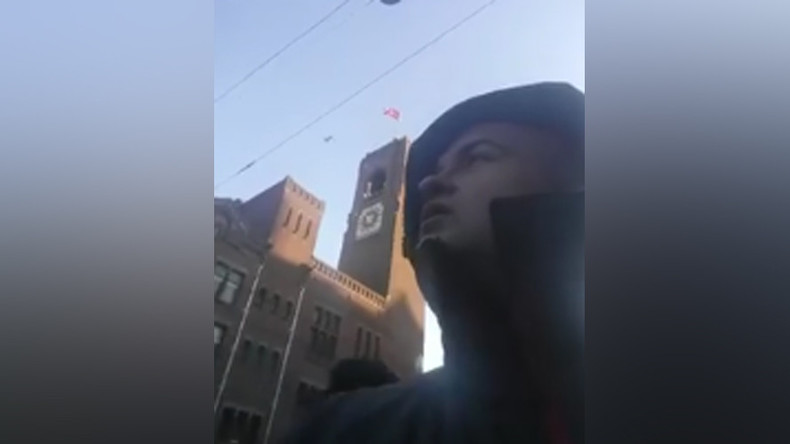 The 'morning after' can be a hazy, confusing world, especially after blacking out from too much drinking the night before. So you can (almost) excuse David McCallum for confusing the Dutch capital of Amsterdam with the Scottish capital of Edinburgh.
McCallum's Thursday night started out with his friends in a Glasgow club.
After a "few" drinks, he was thrown out for being too drunk - and that was the last thing he remembered.
According to his friends, McCallum was refused entry to the next club and said he was going home to get his ID.
Yet somehow, he managed to book a flight online, get to the airport, and fly across the North Sea to Amsterdam.
"I love Amsterdam and I lost my job a week ago. I think those combined with booze made me just do it," he said.
When he woke up in a hotel room the next day, he claims he didn't know where he was. As he walked outside, he (conveniently for us) recorded himself, saying he thought he was in Edinburgh because of the trams.
In a bit of Dickensian farce, he asked a passerby where they were, but didn't believe them when they said Amsterdam. It was only after asking someone else that he started to piece it all together.
While McCallum successfully booked his one-way flight to Amsterdam in a drunken state, for whatever reason, he also paid for two different hotels - and ran out of cash.
He had to contact his sister so she could pay for his return ticket back to Glasgow.
Tragically, there wasn't another flight until Saturday, so McCallum was "forced" to check out the Dammer's famous coffeeshops and sex museum to kill time.
McCallum is also known by his amateur wrestling name Ravie-Davie, The Fresh Prince Of Drumoyne Square, although now he could change that to The Confused Prince of Dam Square.