All-day breakfast? EU talks stagnate, may continue into Saturday
Published time: 19 Feb, 2016 11:43
Edited time: 19 Feb, 2016 16:32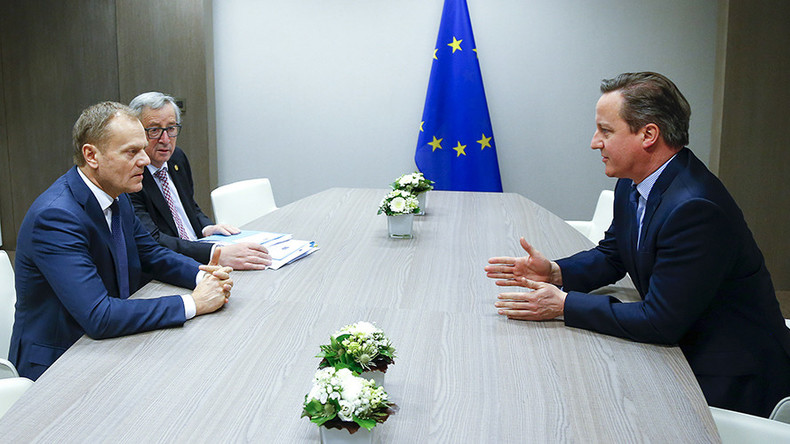 EU leaders' hopes of brokering a deal over the future of Britain's membership in time for a Friday morning 'English breakfast' were dashed as talks in Brussels stagnated, with reports they could continue into Saturday.
The discussions were supposed to end Friday morning with an "English breakfast" to discuss a final document, but this has now been pushed back to an "English dinner" – and could even take place Saturday.
Reports suggest other EU leaders have protested against Prime Minister David Cameron's proposal to curb welfare payments to migrants.
Earlier on Friday Downing Street admitted the EU Council talks taking place in Brussels, aimed at securing a renegotiation deal for Britain's membership of the EU, had made "no real progress" on a number of key issues.
A source told the BBC that on the whole the talks had been "constructive" but a number of countries had spoken out against British Prime Minister David Cameron's plans.
European Council President Donald Tusk told the leaders of the 28 bloc member states in attendance that if it was necessary to extend the talks until Sunday in order to make an agreement, he would.
Dutch Prime Minister Marc Rutte also suggested the talks would need to be extended after most of Thursday's negotiations focused on migration rather than UK reforms.
According to Sky News, Cameron surprised the delegates by asking for the "emergency brake" which would restrict migrants from receiving welfare payments, for up to 13 years. The prime minister proposed that the brake be implemented for an initial seven years, followed by two optional three-year extensions.
Tusk said "a lot still remains to be done," despite agreeing with Cameron on the reform package before it was presented to the European leaders – suggesting Cameron has faced resistance from other delegates.
Leaders from across the bloc said the talks had not made much headway.
Italian Prime Minister Matteo Renzi told reporters on Thursday evening he was "less optimistic on a deal with Britain" than he had been when he arrived at the talks. Irish leader Enda Kenny added that a deal could take "longer than expected."
But German Chancellor Angela Merkel suggested there was a genuine desire to keep Britain in the bloc.
"The wish is there to keep Britain as a member of the European Union. It became clear that agreement will not be easy for many, but that the will is there," she said.
It is thought that if Cameron brokers a deal this weekend, he will begin to campaign for the 'in' vote.
Labour Party leader Jeremy Corbyn has promised to support the 'in' campaign regardless of a renegotiation deal, which he branded "largely irrelevant." He added that the bloc "brings investment, jobs and protection for British workers and consumers."