63yo man killed in explosion that flattened suburban North Yorkshire home (VIDEO)
Published time: 19 Feb, 2016 10:36
Edited time: 19 Feb, 2016 10:52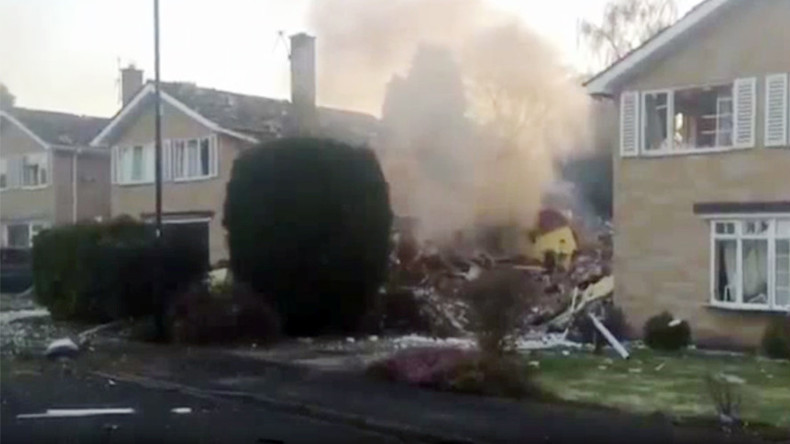 A 63-year-old man has been killed in a massive explosion believed to have been caused by a gas leak which reduced a North Yorkshire home to rubble Friday morning.
Video footage shows smoldering embers and a pile of brick and debris in the quiet suburban town of Haxby, outside York.
At least one person is reported to have been killed, while neighboring properties were also damaged, with windows blown out.
Nearby residents were woken abruptly up at 07:30 GMT by a loud blast which sounded like "an aeroplane crash."
A local man, who did not wish to be named, said he was around 150 yards away from the £220,000 (US$315,000) property at the time of the explosion.
"The house has been completely flattened. It sounded as if a bus or something had crashed into a house, or like an aeroplane crash," he told the Press Association.
"All the properties adjacent to the one that's blown up have got damaged windows and garages."
Witness Rob Varley tweeted: "House just exploded in Haxby on Springwood. There's just nothing left ... Set on fire again soon after. Hope no-one was home, not sure yet."
Neighbor Tim Riggen wrote: "It sounded like thunder, yet the sky is blue. Hearing sirens approaching now."
Windows at St. Margaret Clitherow Church, about 100 meters away, are also understood to have been damaged.
Fire and ambulance services are at the scene.
A North Yorkshire police spokesperson said: "A 63-year-old man has died following an explosion at a house in Haxby, York, police can confirm.
"It is believed that there was one person in the property at the time of the explosion, which was reported around 7.30am today. The immediate family of the deceased has been informed. Emergency services remain at the scene in Springwood, Haxby.
"Some neighbouring properties have also been damaged. However, gas supplied have been isolated and emergency services are working with Northern Gas Networks to investigate the possible cause of the incident."