'Defender of apartheid': Thatcher urged to condemn S. Africa's racist policy, UK govt files show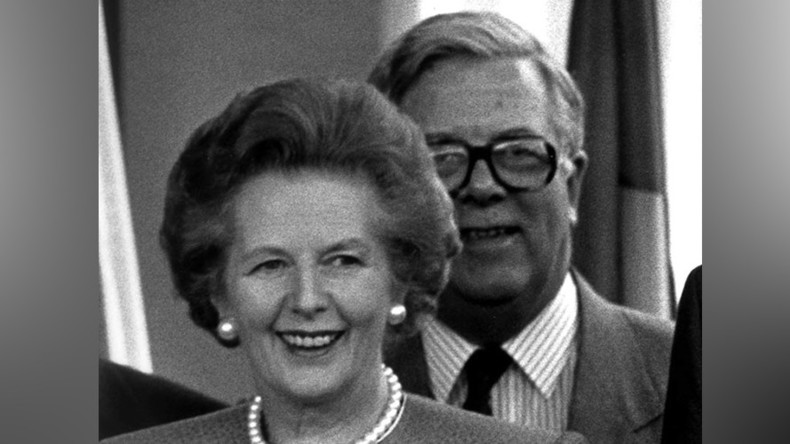 The British government urged Prime Minister Margaret Thatcher to condemn apartheid in order to dispel the myth that the UK defended the racist policy. However, rather than tackle the issue, Thatcher's aides said that the memo should be "buried deep."
The UK government files were released on Friday by the National Archives at Kew, in the west of London, and showed that the Foreign Sir Secretary Geoffrey Howe was becoming increasingly worried about how Britain was being perceived by its fellow members of the Commonwealth.
Howe believed Britain was seen as "the main defender of the South African government and of apartheid," and was not doing enough to condemn its racist policy of separating whites and blacks.
"As the Prime Minister knows, in Sir Geoffrey's view the problem is that because of our vigorous and persistent public opposition to comprehensive economic sanctions many Commonwealth leaders now see us as the main defender of the South African Government and of apartheid," the Foreign and Commonwealth Office memo stated.
The UK foreign secretary made the plea on July 16, 1986, on the eve of the Commonwealth Games, which were due to take place in Edinburgh, Scotland, later in the month. However, not all was well as the event was facing a mass boycott.
Only 27 of the 59 Commonwealth countries said they would take part, with the rest - mainly from Africa, Asia and the Caribbean - saying they would not compete so that the Games would appear to be a white-only event. They boycotted the event in Edinburgh in protest of London's failure to condemn South Africa's continued implementation of apartheid.
Queen Elizabeth II had also made her feelings clear that Thatcher's opposition to imposing sanctions against South Africa could lead to the eventual breakup of the Commonwealth.
Howe called on the 'Iron Lady' to "reinforce the message of opposition during Prime Ministers' Questions, which would be extremely helpful." The memo stated that Thatcher should describe apartheid as being "totally repugnant and morally objectionable." However, the PM never launched the attack against the racist policy that Howe was looking for, and she merely said she wanted to see an end to apartheid.
Other documents released showed the level of criticism the UK was receiving due to its failure to condemn South Africa's continued imposition of apartheid.
The Zambian president scolded Thatcher for not implementing sanctions against Pretoria and of "doing everything possible to isolate yourself and Britain from the rest of us," the Daily Mail reported.
Meanwhile, General Olusegun Obasanjo of Nigeria said that Thatcher's position was "immoral" and that the UK's failure to condemn apartheid could "only tend to cast your position in a racist mold."