UK Israeli boycott ban contradicts official govt business guidelines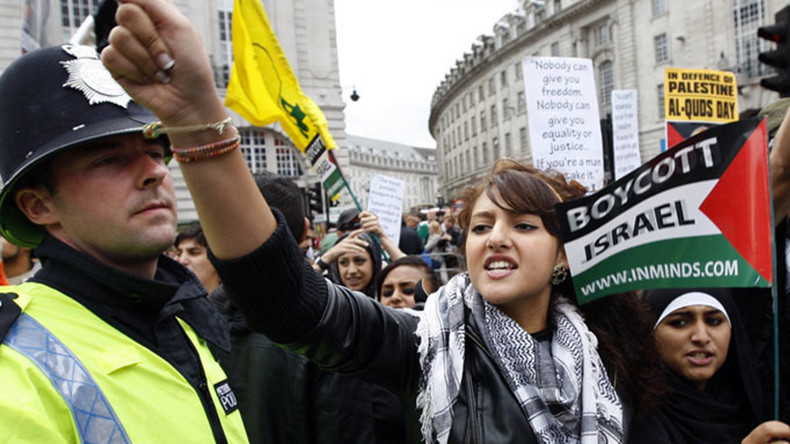 Britain's ban on the public boycott of goods from Israel's occupied territories contradicts its own official business guidelines, documents have revealed.
The controversial new law, which would ban local councils, student unions and other public bodies from boycotting goods for political reasons, was announced by the government on Monday and has been implemented without parliamentary debate or vote.
However, documents first seen by the Independent show the Foreign Office's Overseas Business Risk assessment for Israel states that the government does "not encourage or offer support" to business with the occupied territories, apparently contradicting the new regulation.
"Settlements are illegal under international law, constitute an obstacle to peace and threaten to make a two-state solution to the Israeli-Palestinian conflict impossible," the document reads.
"There are therefore clear risks related to economic and financial activities in the settlements, and we do not encourage or offer support to such activity."
The new rules do not apply exclusively to Israel, but would ban institutions that receive the majority of their funding from the government from participating in procurement political campaigns, choosing not to buy products from companies on political grounds. The only exception would be nationwide boycotts mandated by the government.
The Palestinian Liberation Organization (PLO) has attacked the new law, saying it undermines the democratic rights and freedoms of public bodies.
PLO Executive Committee Members Dr Hanan Ashrawi and Dr Saeb Erekat released a joint statement after meeting with Middle East Minister Tobias Ellwood on Wednesday.
"This represents a serious regression in British policy and it would empower the Israeli occupation by sending a message of impunity," said Ashrawi and Erekat.
"In order to accommodate the Israeli occupation, the British government is undermining British democracy and their own people's rights."
The Labour Party has panned the new measures as an "attack on democracy."
"This government's ban would have outlawed council action against apartheid South Africa. Ministers talk about devolution, but in practice they're imposing Conservative Party policies on elected local councils across the board," Labour Party leader Jeremy Corbyn said.
The government, however, has defended the anti-boycott measures, saying they are necessary for "community cohesion" and national security.
"There are wider national and international consequences from imposing such local level boycotts. They can damage integration and community cohesion within the United Kingdom, hinder Britain's export trade, and harm foreign relations to the detriment of Britain's economic and international security," ministers said in a procurement policy note sent out to public authorities.
Coinciding with the law's announcement, Cabinet Minister Matthew Hancock, who has recently come under fire for accepting a £4,000 donation from a right wing think tank, weeks before announcing a crackdown on lobbying by charities, is currently in Israel promoting business and trade links with the UK.
You can share this story on social media: