Hospitals pressured to cook books, downplay debt – NHS whistleblower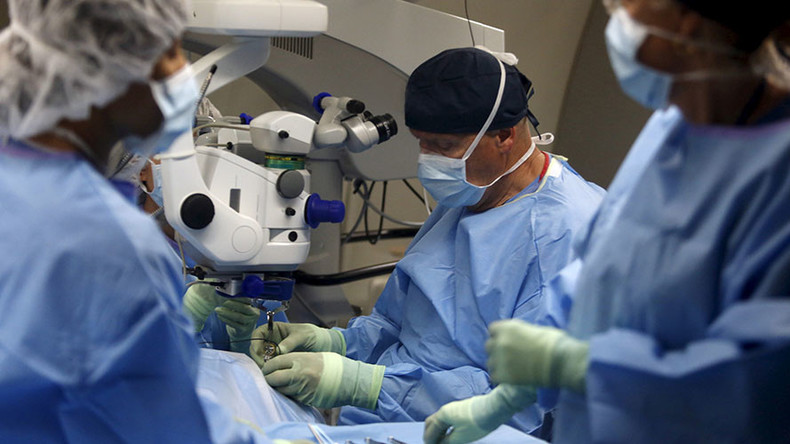 NHS hospitals face pressure from regulators to cook their books and downplay the size of their deficits, a finance director turned whistleblower has said.
In anonymous evidence given to the House of Commons Public Accounts Committee (PAC), the finance chief told MPs he and his colleagues are concerned that national regulators are pressurizing NHS providers to deceive taxpayers and government departments about their financial performance.
Legacy of funding cuts
Five years of austerity and funding cuts under the previous coalition government in conjunction with an aging population has left the NHS facing increasing financial turmoil. While the government has vowed to invest £3.8 billion (US$5.45 billion) into the health service in the coming year, fears exist the funding will be canceled out by the black hole of rising hospital debts.
Following the introduction of strict new laws in January, the Department of Health said that NHS trusts must eradicate their deficits by the end of the next financial year or miss out on funding worth £1.8 billion. Britain's Health Secretary Jeremy Hunt warned failure is not an option, while officials said boards could be suspended at hospitals that fail to balance their books and maintain care standards.
The hospital sector expects to eclipse its target of a £1.8 billion controlled deficit this financial year, with the National Audit Office projecting the total could be £2.2 billion. However, in evidence to MPs, the NHS whistleblower said that the total deficit for NHS providers in England could surpass £2.9 billion.
Addressing the PAC, the finance director referred to a case in which an accountant was prosecuted for fraudulently adapting a valuation report in 2008.
"My fear is that some FDs [finance directors] may be pressurized into taking the wrong judgments and making inaccurate claims to keep the regulator at bay," he said.
"I fear for FDs being put under similar pressure to 'cook the books.'"
The NHS whistleblower said that quality of care and patient safety could be jeopardized by trusts' short term objective of reducing headcounts. He warned that the deficit target given to his own trust for the next financial year is £5-10 million lower than the board believes it can realistically and safely achieve. He also noted that £10 million would cover the running costs for six 28-bedded in-patient wards.
PFI and unsustainable debt
Social justice activists warn private finance initiatives (PFI) are crippling the NHS and racking up unsustainable debt in the process.
PFIs have been adopted in many states worldwide as part of a broader program of privatization and financialization. First introduced in Britain under ex-Tory PM John Major, they were set up to use private capital to fund public infrastructure development.
However, concern is mounting in Britain that these lucrative contracts enable service contractors, construction companies and offshore firms to profit as Britain's public hospitals and schools crumble under the weight of unsustainable debt.
The costly and clandestine nature of these deals has been denounced by activists, academics and MPs across Britain's political spectrum.
One such campaign, The People vs PFI, is calling for Britain's PFI contracts to be rendered null and void. The group, which is a collective of grassroots organizations, students and NHS patients, says PFI deals are toxic for Britain's public purse and are operated by the private sector for its own benefit.
It warns overpriced PFI contracts, dependent on criminally rigged Libor rates, have burdened British tax payers with several hundred billion pounds' worth of debt.
Labour's Shadow Health Secretary Heidi Alexander said Hunt has lost control of NHS finances.
"The fact that some hospital staff even feel under pressure to fiddle the figures is incredibly worrying," she told the Independent.
"Hospitals are facing a financial deficit of over £2 billion this year and on top of that they are being asked to make eye-watering 'efficiency savings.' Experts have said that efficiencies on this scale could put patient safety at risk."
'Pressure to meet overspending goals is immense'
Chief economist at UK think tank the King's Fund, John Appleby, said that a fresh survey of finance directors, due to be released later this week, will likely uncover further concern over the impact of funding cuts for patient services.
"There may be instances where it's not possible to deliver cost-cutting without care being affected," he told the Independent.
"Although pressure to meet overspending goals this year is immense, next year there is a goal of no deficits across the system. I don't think the NHS has ever achieved that. It seems incredibly difficult for that to happen."
While Appleby conceded it is possible that the provider sector deficit could be as high as £2.9 billion for the upcoming financial year, he predicted it will likely be lower.
"I'm also completely unsurprised that there is pressure, if not to 'cook the books,' to make judgments about how accounts are presented," he said. However, Appleby stressed he had seen no concrete evidence of finance directors facing pressure to act illegally.
A spokesperson for NHS financial regulators Monitor and the Trust Development said that hospitals had been requested to submit "challenging but realistic plans for the next year."
"These plans will be rigorously assessed and agreed by trust boards before final submission," the spokesperson told the Independent.
"Where we have asked providers to make operational changes to reduce costs we have always been clear that this must not come at the expense of patient safety.
"We have also asked finance directors to review accounting estimates to ensure that they are accurate and provide a true reflection of the financial issues the NHS is facing."
You can share this story on social media: