Lost youth: UK band & manager die after car plunges 26 meters into canal
Published time: 14 Feb, 2016 19:06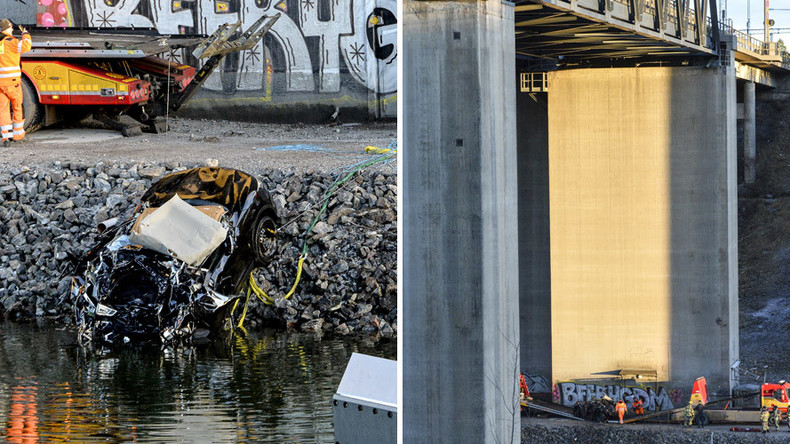 All four members of the British rock band Viola Beach, as well as their manager, died tragically near Stockholm, Sweden Saturday after their car plunged 26 meters (85 feet) off a motorway bridge into the canal below.
Kris Leonard, River Reeves, Tomas Lowe, Jack Dakin, and manager Craig Tarry, all aged between 20 and 35 years-old, died when their car fell through a section of the bridge that had been opened to allow a vessel to pass through a canal beneath in Sodertalje, a city located 35 kilometers (22 miles) southwest of Stockholm.
A stretch of the bridge lifts directly upwards without tilting, leaving a gap in the road, which police think the car fell through, despite a barrier with warning lights in place about 50 meters (164 feet) ahead of the opening.
"For some reason, the car drove through the barriers and crashed down into the canal," Inspector Martin Bergholm of Stockholm police said. "The witnesses just saw a car beside them and kind of disappear."
We're flying out to Sweden tomorrow for Where's the Music?Festival in Norrköping! We play Dynamo (Hallarna) on Friday at 9.30pm! Tickets at http://www.wheresthemusic.se/en/tickets/

Posted by Viola Beach on Thursday, 11 February 2016
Emergency services arrived at the scene shortly after the crash and recovered the bodies from the canal.
The identities of the deceased were quickly established from the men's passports.
The band, which came from Warrington in northern England, played at the "Where's the Music" festival in Norrkoping south of Stockholm on Friday night and were due to perform at a venue outside London Saturday evening.
The band had recently recorded a session with the BBC and was due to perform at the SXSW music festival in Austin, Texas next month – a gig that could have had a profound impact on their career.
There has been an outpouring of grief on Twitter at the passing of the five men.
We are shocked and saddened to learn of the death of lifelong #mcfc supporter Craig Tarry, manager of the band Viola Beach.

— Manchester City FC (@MCFC) February 14, 2016
Heartbroken to hear about #ViolaBeach & their manager. Such, such a tragedy. God bless! Keep rocking boys 🙌🏼✌🏼️❤️

— Kirsty-Leigh Porter (@KirstyLPorter) February 14, 2016
Just heard horrendous news about @Viola_Beach. Fellow Warrington lads, they rehearsed next door to us. Our thoughts are with their families

— Man & The Echo (@ManandTheEcho) February 14, 2016