Worst Photoshop ever exposes phony soldier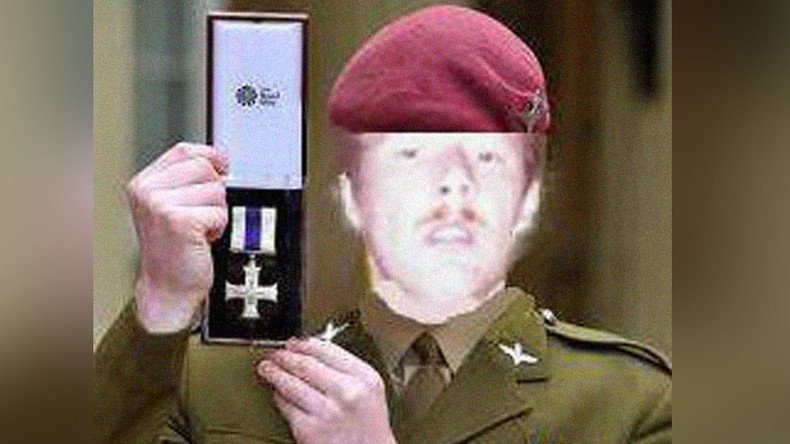 Possibly the worst Photoshop attempt in history led to the exposure and public shaming of a man pretending to be a recipient of the Military Cross for services in Northern Ireland.
Dave Harper was caught out by the Walter Mitty Hunting Club after he posed the badly-altered picture on Facebook.
The Hunting Club is an unofficial group of ex-military personnel dedicated to finding Walter Mitty fantasists – 'Walts,' in UK army parlance – who pose as veterans.
Unlike in the US, where the Stolen Valor Act makes it illegal to pose as a soldier or veteran, the UK does not prosecute such cases.
Using a picture of a genuine medal recipient who won a Military Cross in Afghanistan, Harper added his own face and claimed to have won the same award in Northern Ireland. It is the third highest award for valor in the military.
Despite the original 2012 photo being of high quality, he claimed it had been taken in 1969.
"Some old photo's I found in old envelope. Most of my belongings where destroyed when my Aunts house was burned very badly. I had forgotten about them," he said on Facebook.
"Bloody horrible photo when I look at it, never used to wear my Beret like that normally, I look retarded," he added.
Commenters on the Walter Mitty Hunting Club Facebook page laid into Harper's artistic efforts.
Steve Edward said: "How could anyone have been fooled by that 'Photoshop' effort? You can almost see the Sellotape."
Mitch Singleton meanwhile pointed out: "He is wearing an Afghan medal, whilst stating this is a very old photo after a Northern Ireland tour. What a d*ck."
Harper has since turned his Facebook into a private account.
You can share this story on social media: