Trident la-la land? Pro-nukes Labour MPs attack disarmament proposals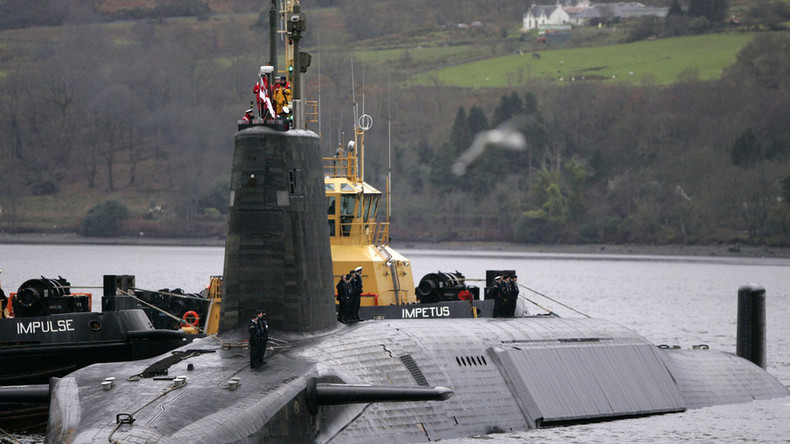 Shadow Defense Secretary Emily Thornberry has been hounded by MPs among her own Labour Party ranks for arguing against renewing Britain's multibillion-pound Trident nuclear weapons system.
Thornberry, who follows Labour leader Jeremy Corbyn's anti-Trident stance, was heckled by some Labour MPs during her presentation and was accused of "living in la-la land." She was attempting to showcase the party's latest options on whether or not to renew the weapons system.
During the meeting John Cryer, chairman of the Parliamentary Labour Party (PLP), reportedly paused the session as a result of frequent interruptions. Thornberry's speech was described as "waffly," "patronizing" and "the worst presentation I have ever seen," by pro-Trident MPs, according to the Times.
Thornberry defended Corbyn's proposal to run Trident submarines without nuclear warheads. She also said technological advances may make the submarines obsolete in the near future regardless of their payload.
"The idea of the Trident replacement is that they are able to hide in the seas. If technology is moving faster, it may well be that Trident is not going to be able to hide. If we are to bet everything on mutually assured destruction we have to be assured it is going to work. If it cannot hide any more, that is a problem," she said.
Labour has failed to reach a consensus on the issue of Trident, and Thornberry's speech has not made an agreement any more likely. A Commons vote on renewal is likely to take place before the summer.
Shadow Home Secretary Andy Burnham, who supports renewing the missile system, told the BBC the session "confirmed something many of us had long suspected: that the debate on Trident in the Labour Party is going to be very difficult."
He told BBC Radio 4's Today program: "There are two positions here which are difficult to reconcile – maybe impossible to reconcile – and the party has got to find some way of accommodating those positions and move forward and don't let this issue take over everything."
Burnham said the current suggestion of maintaining Trident submarines without warheads on board would not sway the party.
"There are some hybrid options that have been put forward but I think most people have found that they just don't work.
"So the discussion has been in the party: 'Can you realistically try to find a halfway house?' and most people have concluded that you can't.
"Therefore if there are two positions that are deeply held on both sides but can't easily be reconciled, the party needs to find some way of accommodating that and allowing people to move forward and actually move on to other issues and hold the government to account."
It was also revealed during the meeting that BAE Systems will be given £210 million (US$300 million) to fund the final stages of design and development before parliament votes on the issue.
The sum is the final section of a £3.3 billion development fund that will be awarded to BAE, which has been given around £900 million so far. The two other main contractors, Rolls-Royce and Babcock International, could also be allocated more funding for development and research.
You can share this story on social media: