Police guarding Trident nukes 'overstretched,' working 'excessive overtime'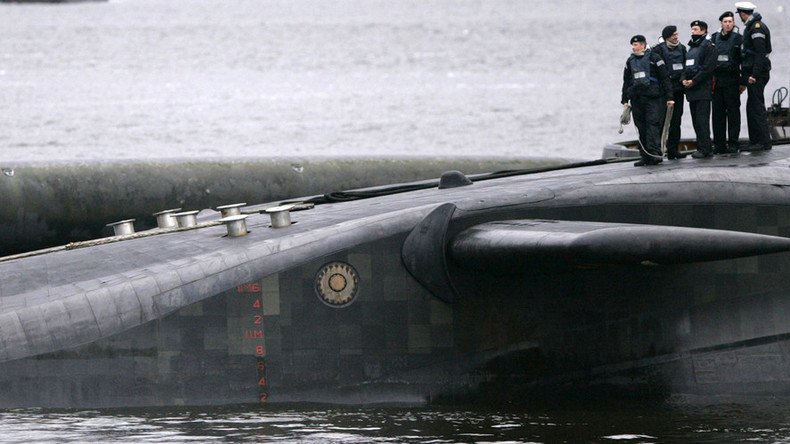 Military police guarding Britain's nuclear weapons bases are so overstretched that officers are forced to work "excessive overtime" to maintain security, an official report has warned.
Staff numbers at the Ministry of Defence Police (MDP), which guards over 120 military sites around the UK, are "not sustainable" without risking security, according to the report by the MoD Police Committee.
A recruitment drive, which began three years ago, failed to significantly boost the force's numbers, with the MDP seeing a net addition of just five officers in 2014/15, largely due to retirements and other departures.
MDP personnel are forced to work "huge amounts" of overtime as a result, calling into question the quality of security at key military facilities.
A report published last month showed the number of unauthorized entries to military bases in the UK almost doubled between 2014 and 2015, rising from 24 incidents to 44.
Some 1,611 security breaches were recorded in 2015 – an increase of around 50 percent.
Labour said on Thursday that the rise in security breaches at Britain's military installations coincided with the period covered in the report and warned of "extremely low" morale at some military sites.
Last May, Royal Navy submariner William McNeilly went on the run after publicly raising concerns about serious security lapses in Britain's Trident nuclear program, which, he alleged, made it easier for intruders to access secured areas than to enter "most nightclubs."
The whistleblower described Trident as a "disaster waiting to happen."
McNeilly, a weapons engineer, who served for four months in 2015 on board HMS Victorious, said a number of security lapses and technical faults with the Trident missiles carrier exposed the UK nuclear deterrent to potential terrorist attacks that "would kill our people and destroy our land."
Possible attackers have "the perfect opportunity to send nuclear warheads crashing down on the UK," he alleged.
McNeilly was discharged from the Royal Navy in June last year. He said during his dismissal process he refused to sign a naval document discrediting his allegations.
MoD Police Committee chair David Riddle said that while the force's results in 2014/15 had been "acceptable," the level of performance "is only achieved with huge amounts of overtime working … this is not sustainable without risks to employees and security."
Riddle also said the new responsibility of guarding the headquarters of spy agency GCHQ had "added extra demand on an already overstretched organization." He called for more recruits to be deployed urgently in Portsmouth, where the Royal Navy's new aircraft carriers are due to arrive later this year.
An MoD spokesperson said: "The MDP force is currently around 95 percent manned and has recruited 450 officers in the past two years, with plans in place to recruit a further 200 in the next financial year."
You can share this story on social media: