British 'ghost ships' en route to Japan to collect enough plutonium for 80 nuclear warheads – report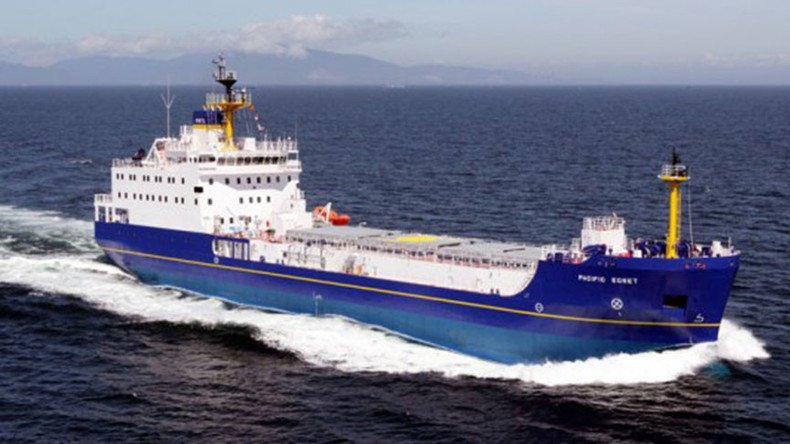 Two British 'ghost ships' are reportedly on their way to Japan to collect enough plutonium for 80 nuclear warheads. It is believed that each ship is armed with 20mm cannon and guarded by 25 commandos.
They are likely being shadowed by a Royal Navy submarine.
The Pacific Heron and the Pacific Egret are currently en route to Japan after departing Barrow-in-Furness, England, in January. The vessels are to travel across the Atlantic before passing through the Panama Canal and into the Pacific, Mail Online reported.
Once the ships arrive in Japan, they will pick up 331 kilograms of plutonium – enough to make 80 nuclear warheads.
However, the ultimate destination is a US nuclear storage facility in South Carolina, to which the ships will set off after collecting their nuclear cargo in Japan.
"The cargo is invaluable and part of a secret trade in fissile materials between the likes of the UK and US. The biggest risk is a fire or an external missile strike," nuclear expert John Large told Mail Online on Sunday.
He added that "this is bomb-grade nuclear material and a terror group or rogue state would want to intercept it." Due to this risk, it is believed that the vessels are each armed with 20mm cannon, guarded by up to 25 commandos, and likely shadowed by a Royal Navy submarine.
The Heron and the Egret, each of which weigh about 6,700 tons fully loaded, belong to the UK's Nuclear Decommissioning Authority (NDA). A spokesman from International Nuclear Services, an NDA subsidiary, confirmed the mission.
"I can confirm that the specialist nuclear cargo vessels are currently taking part in a voyage but, in accordance with normal procedures, I can't disclose any operational details for security reasons," he told Mail Online.
The mission has been criticized by the British group Cumbrians Opposed to a Radioactive Environment (CORE), which tracks the transport of nuclear materials around the world.
The group's spokesman, Martin Forwood, called the mission "wholly unnecessary" and a "significant security threat."
"The practice of shipping this plutonium to the US as a safeguard is completely undermined by deliberately exposing this prime terrorist material to a lengthy sea transport, during which it will face everyday maritime risks and targeting by those with hostile intentions," Forwood said in a statement.
You can share this story on social media: