Demolishing Calais 'Jungle' camp breaches human right to a home – petition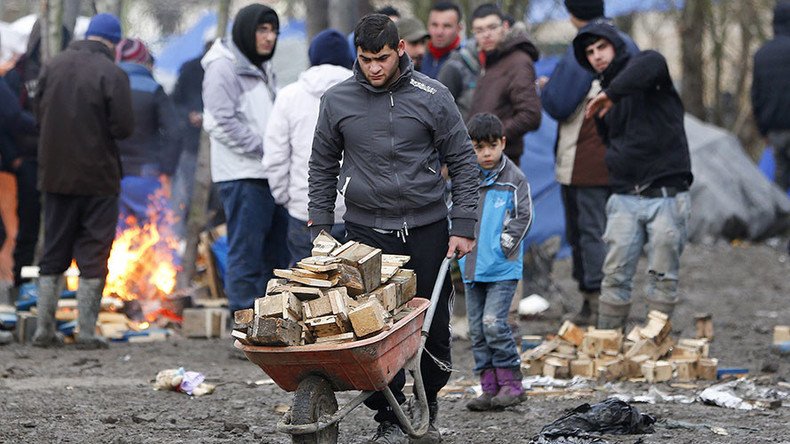 An online petition is calling on the French government to "stop the destruction" of the 'Jungle' refugee camp, near the port town of Calais. It comes amid concerns local authorities plan to reduce the size of the camp further.
The petition, hosted on digital campaign website Avaaz, has received 800 signatures as of Thursday afternoon and comes as world leaders meet in London to raise aid money for Syrian refugees.
The petition alleges French authorities are violating article 8 of the European Convention on Human Rights, which stipulates that everyone has a right to "respect for his private and family life, [and] his home."
It calls on the French government to halt the "destruction of thousands of homes" until migrants and refugees are allowed to ask for asylum in the country of their choice.
The petition, authored by French volunteer aid worker Maya Konforti, reflects fears among activists that French authorities are seeking to reduce the size of the Calais camp, currently home to around 5,000 people.
Humanitarian aid group Help Refugees told RT: "The French authorities have stated that they intend to reduce the population of the camp from the current estimated 5,000 to 2,000.
"We are concerned for the welfare of all refugees there and will continue to provide humanitarian aid in the form of shelter, food and clothing as long as it is needed."
The petition alleges the French government has already violated the European Convention on Human Rights by destroying tents and places of worship.
"In January 2016, the French government already leveled a 100-meter band around the perimeter of the jungle, bulldozing mercilessly hundreds of homes. Over 1,300 people had to be relocated, before an eviction notice was even put up.
"Moreover, on February 1, a church and a mosque were also destroyed with no advance notice whatsoever, and this after the government had promised to leave places of worship intact. According to article 9 of the European Convention on Human Rights, which protects people's right to worship, no such place can be destroyed."
Signatories to the petition back its call for French Prime Minister Manuel Valls, Interior Minister Bernard Cazeneuve and Pas-de-Calais' prefect Fabienne Buccio to offer a "truly welcoming solution" to the refugees.
It urges the authorities to deliver a resolution "which will allow [refugees] to ask for asylum in the country of their choice and will treat their request with both care and effectiveness so they can rapidly become productive citizens and contribute their many skills to our society."
The Avaaz petition comes as world leaders pledged to donate billions of dollars for people displaced by the Syrian civil war.
The EU pledged over $3.3 billion (£2.3 billion), Germany $2.6 billion (£1.78 billion), the UK $1.7 billion (£1.16 billion) and the US $925 million (£633.6 million).
You can share this story on social media: