$10bn raised in humanitarian aid for Syria at London conference – Cameron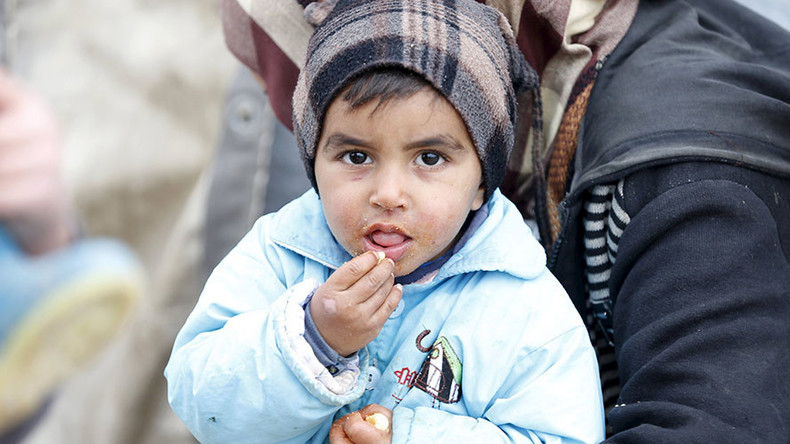 Donor states have dramatically exceeded the stated aim of raising $9 billion to tackle the humanitarian crisis in Syria at a summit in London on Thursday.
Prime Minister David Cameron revealed on Thursday afternoon that more than $10 billion had been pledged.
The US pledged an extra $925 million, with Italy committing $400 million and Japan $350 million.
The pledges come after British Prime Minister David Cameron called on the international community to bolster funding to ensure displaced Syrians have access to adequate healthcare, education and work.
As well as the big-hitting pledgers, Denmark promised $25 million and Belgium $75 million.
The conference, taking place in Westminster on Thursday, involves representatives from 70 countries, including US Secretary of State John Kerry, Iranian Foreign Minister Mohammad Javad Zarif and German Chancellor Angela Merkel.
David Cameron has pledged to double British aid to Syria until 2020. Writing in the Guardian on Thursday, he said there must be a "new approach" to the humanitarian crisis.
"Sufficient funding to guarantee the basics of life that these refugees need must be the bare minimum expected of us," he wrote.
International Development Secretary Justine Greening also called for a stronger response to the crisis.
"It's not just about what the UK can do, we want to also play a role in getting the rest of the international community to really take responsibility and work to help countries like Jordan, Lebanon and Turkey, who are so generous in hosting these refugees."
However, the talks have also offered a platform for states to vent their concerns. Turkish Prime Minister Ahmet Davutoğlu said he is worried further airstrikes by Syrian President Bashar Assad's forces will perpetuate a mass refugee exodus.
"The most dangerous and criminal act is being conducted against Aleppo. The city has been under bombardment for five years. It is the economic backbone for Syria and became the main safe haven for opponents of the regime. Now the corridor between Aleppo and Turkey – the means by which food needs and assistance, not just from Turkey but the rest of the world, is carried by trucks to Aleppo – has been attacked by extremists and cut off."
Cameron has predicted that the conference will generate more than the $4.5 billion raised throughout 2015. It is the first fundraising conference to be held at state level and will attract more press attention than other gatherings.
The UN has said some $9 billion must be raised in order to meet the demand for schools, access to work for Syrians and other humanitarian aid. However, it is believed negotiations between states continued late into Wednesday night. So far, $7 billion has been secured – $2billion short of the total.
Last year, the UN only raised half of the funds it required for Syria.
Foreign Office minister Tobias Ellwood said it is necessary to raise more money or "another one million people will turn their back on Syria."
The meeting in London comes after the UN special envoy to Syria delayed peace talks in Geneva until later in February, saying he would not "talk for the sake of talking."
On Wednesday Staffan de Mistura explained more needed to be done by stakeholders to prepare for the talks.
"I have concluded frankly that after the first week of preparatory talks there is more work to be done, not only by us but by the stakeholders," he said after three days of talks.
"I have indicated from the first day that I won't talk for the sake of talking."
You can share this story on social media: