Losing that 'Top Gun' feeling: Out-of-practice RAF needs dogfight training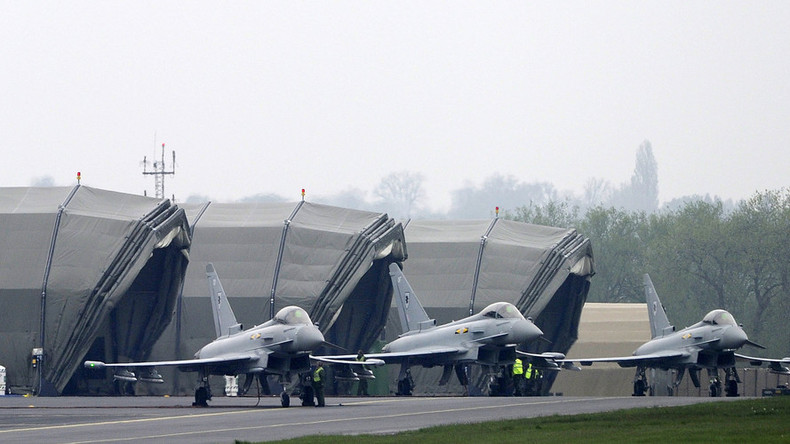 Years of bombing targets in Iraq and Afghanistan that don't shoot back appear to have left Britain's Royal Air Force (RAF) a little rusty in the dogfighting skills department. Officials are determined to send UK pilots back to school, according to reports.
Senior officers fear the skill fade, due to lack of air-to-air combat, could leave the RAF lagging behind if it ever came to a showdown with Russian jets.
The issue was touched on in January by Air Vice-Marshal Gary Waterfall, who in 2012 won a CBE for his efforts during the air war over Libya.
He said he saw the formation of a "Red Air" unit as a "prioritized" aim. Red Air refers to a group of American servicemen who flew against US pilots during training in Soviet uniforms and using Russian tactics, as depicted in cult movie classic "Top Gun."
"These guys would be the first port of call should we need an opposing force to participate in an air combat exercise," an anonymous RAF officer told the Times newspaper.
The task will fall to the UK's recently expanded Typhoon fighter-bomber squadrons with some units specializing in bombing with Brimstone or Storm Shadow munitions and others being designated for the Red Air role.
Tensions between Britain and Russia have been high in recent years over disagreements on Ukraine and Syria.
The UK has also complained of a number of alleged incursions into or near UK airspace, most often by Russian Bear bombers.
In 2015, there were a number of incidents when British fighter jets were scrambled to intercept Russian aircraft. In November, RAF Typhoon fighter jets intercepted Russian bombers passing close to UK airspace over the Atlantic Ocean.
Earlier in the year, Russia's ambassador was summoned by the UK Foreign Office, to lodge a complaint about a flight of Russian military jets over the English Channel, which British authorities claimed posed a danger to passenger aircraft.
You can share this story on social media: