Far-right National Front targeting Scottish school kids for recruitment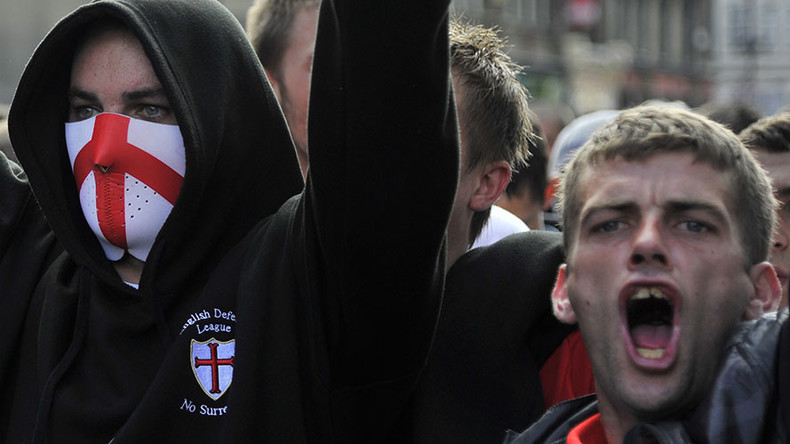 The National Front is targeting schoolchildren in Aberdeen, Scotland to recruit them into their far-right, anti-immigrant group.
The ultranationalist group handed out copies of Bulldog – its magazine aimed at young people – at school gates in Aberdeen earlier this month. The National Front also asked its members in Dundee and Glasgow to follow suit, according to the Herald Scotland.
READ MORE: 9 arrested amid clashes between far-right 'infidels' and anti-fascist protesters in Dover (VIDEO)

Three members stood outside Aberdeen Grammar and talked to students, but later wrote a Facebook post about their disappointment over the teenagers' level of engagement.
"We must admit that some of the feedback was disappointing but it was a worthwhile exercise," the organization wrote on the social network. "The majority of the youngsters said they had no interest at all in politics but would listen to what was said."
The group also noted that complaints had been received from worried parents: "Our party Chairman decided that we should only target 16 year olds and upwards instead of 14 year olds due to telephone calls he had received from concerned parents."
"This also falls in line with the Scottish government's policy of allowing 16 year olds to vote at certain elections," they added.
The Aberdeen Anti-Fascist Alliance sent letters to schools in the area to warn them of NF's presence.
A spokesperson for the Alliance described the NF as "an embarrassment" and "a tiny minority" to the Herald Scotland: "The National Front's knuckle-dragging racist bile is going to get them absolutely nowhere… Aberdeen has a proud history of opposing fascism, racism and discrimination and these people have no place in 21st Century Scotland."
According to the National Front, they have "no plans at present for going to any other Aberdeen schools."
Child recruitment by extremist groups is being tackled by the UK government through its controversial deradicalization program for kids it determines are "at risk" of radicalization.
MI5 has allegedly been working with willing teachers in the UK to track cases of extremism in Muslim schools, the Daily Star reports. Some teachers are said to have volunteered for the role, while others have been approached by UK intelligence agency directly.
According to the Home Office, their anti-extremism strategy "counters all forms of extremism: violent and nonviolent; Islamist and neo-nazi."
You can share this story on social media: