Britain's 'proxy war' in Yemen condemned by critics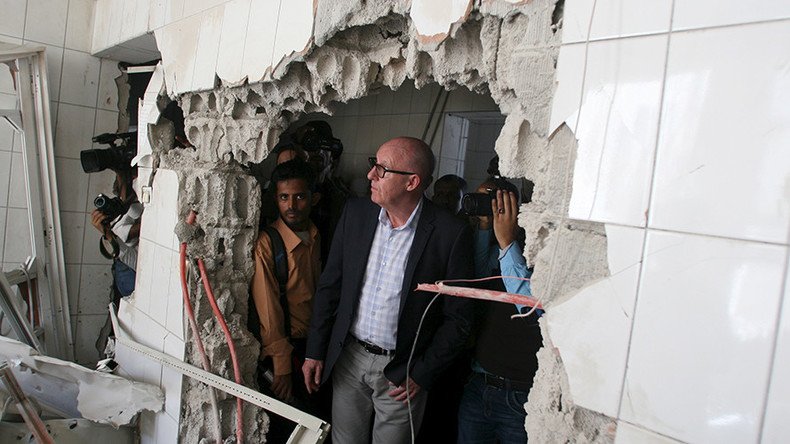 Britain is at war in Yemen and is arming and facilitating a brutal Saudi dictatorship that is bombing innocent civilians, a growing chorus of critics has warned.
The allegation that Britain is engaged in covert warfare in Yemen was first made by Scottish National Party (SNP) Westminster leader Angus Robertson during a heated discussion in Parliament on Monday. However, it has since been echoed by political commentators and human rights campaigners, who are demanding the government come clean on the role of UK forces in the Saudi-led campaign.
The conflict in Yemen consists of a range of regional, local and international power struggles emanating from historical and recent events. As scrutiny of Britain's involvement in the war intensifies, campaigners and commentators insist that the UK is intervening in the conflict. They argue that Britain's arming of the Saudi-led coalition and provision of advice to Saudi military personnel amounts to proxy warfare.
'Reckless conduct'
Britain's arms sales to Saudi Arabia totaled £2.95 billion (US$4.23 billion) for the first nine months of 2015, and roughly £7 billion since Prime Minister David Cameron took office in 2010. Amid mounting concerns that UK-made weapons have been used to bomb schools, hospitals, markets and other civilian targets in Yemen, Cameron has been urged to suspend all arms sales to Saudi Arabia.
Labour Party leader Jeremy Corbyn and Shadow Foreign Secretary Hilary Benn sent a letter to the PM on Wednesday demanding transparency on Britain's involvement, after a leaked version of a UN panel's report concluded attacks on Yemeni civilians had been "widespread and systemic."

The 51-page report, which was obtained by the Guardian, examined 199 missions conducted by the Saudi-led coalition that violated international law.

Many of the attacks involved repeated airstrikes on civilian objects, including refugee camps; civilian gatherings such as weddings; civilian vehicles such as buses; residential areas; medical facilities; schools; mosques; markets, factories and essential civilian infrastructure. Three cases of civilians being pursued and shot at by aircraft as they fled residential bombings were also recorded.
UK director of Human Rights Watch said the findings of the UN report "flatly contradict" UK ministers' rhetoric about the Saudi-led coalition's actions in Yemen.
"For almost a year, [Foreign Secretary] Philip Hammond has made the false and misleading claim that there is no evidence of law or war violations by the UK's Saudi ally and other members of the coalition," he told the Guardian.
Amnesty International UK's head of policy and government affairs Allan Hogarth expressed disgust at the government's attempt to downplay concerns over Saudi Arabia's conduct in Yemen.
"Thousands of civilians have already died and it's been utterly dismaying to see Downing Street brushing aside extremely serious concerns about the reckless conduct of Saudi Arabia in this devastating conflict," he said.
Conflict in Yemen
Saudi Arabia revealed earlier this month that British and American forces are stationed in the control center from which military operations against Yemen are being directed. However, the Ministry of Defence (MoD) has refused to disclose how many British personnel are involved.
The department also insists Britain's involvement is confined to advice and training geared at ensuring Saudi Arabia complies with international law.
Yemen's civil war kicked off in 2014, after Zaidi Shiite-led Houthi rebels overran the capital, Sanaa. The rebels, who had been targeted in six separate wars by Yemen's central government, were loyal to Yemen's former President Ali Abdullah Saleh.
During the Arab spring in 2011, the Houthis had gained control of Yemen's Saada province. However, it wasn't until September 2014 that they conquered Sanaa. The Shiite-led rebels subsequently forced President Hadi to resign in January 2015, and seized control of swaths of southern Yemen.
The following March, a Saudi-led coalition of states launched airstrikes against the Houthis in a bid to retake Yemen. Sometime later, a Saudi-led ground operation also began. By August 2015, the Houthis had been pushed back by resistance fighters supported by the Saudi-led coalition.
As the conflict rolls onward and civilian fatalities continue to mount, criticism of Britain's role in the Saudi-led military campaign is growing ever stronger.
You can share this story on social media: