New Banksy mural targets Calais police brutality amid calls to aid refugees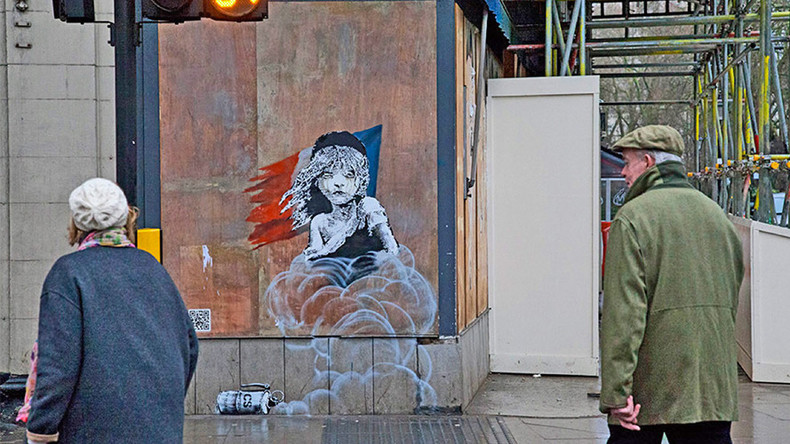 A new mural by street-artist Banksy has appeared on the French embassy in London. The work criticizes the use of heavy-handed policing and teargas in the 'Jungle' refugee camp on the outskirts of Calais.
In a scathing revision of the famous promotional poster for musical hit Les Miserables, Banksy depicts a little girl, shrouded in the French tricolor, crying amid a cloud of CS gas.
The piece also features an interactive QR code, directing users to a video of teargas and rubber bullets used in the Jungle during a recent police raid.
There are suggestions the piece may have already been vandalized, as the corners of the wooden panel it is painted upon are ripped.
One fan told the Press Association the piece is "powerful."
"The work is incredible. I think the most powerful thing for me is I'm a lover of musicals and to use such a powerful image of France is just beautiful.
"This is on my morning running route and just a few weeks ago there was a collection of flowers outside the embassy. It has so much meaning to have it here.
"It is an important message he is getting across."
The appearance of the artwork comes as Britain faces pressure to do more to tackle the ongoing refugee crisis, as charities urge the country to admit at least 3,000 unaccompanied children.
International Development Secretary Justine Greening said on Sunday the government is seriously considering accepting more children, adding that Prime Minister David Cameron will decide what course of action to take in the "coming days and weeks."
Many children fleeing war-torn countries have lost their parents and are vulnerable to people-traffickers when travelling across Europe alone.
Britain has already agreed to take 20,000 Syrian refugees by 2020 and it is believed the 3,000 children would be take in on top of the initial figure.
Greening told Sky News: "We've steadily evolved our approach as this crisis has evolved; we've been right at the forefront, frankly, of helping children who have been affected by this crisis and will continue to look at how we can do that over the coming days and weeks."
Her remarks follow calls from Labour Party leader Jeremy Corbyn to not only re-home children but to provide education for them. Corbyn visited refugee camps in Calais and Dunkirk to witness the humanitarian crisis and lend solidarity.
He said it is essential that Britain do more to help refugees.
"We have to do more. As a matter of urgency, David Cameron should act to give refuge to unaccompanied refugee children now in Europe – as we did with Jewish Kindertransport children escaping from Nazi tyranny in the 1930s.
"And the government must provide the resources needed for those areas accepting refugees – including housing and education – rather than dumping them in some of Britain's poorest communities."
You can share this story on social media: