MPs debate banning Donald Trump from Britain over 'hate speech'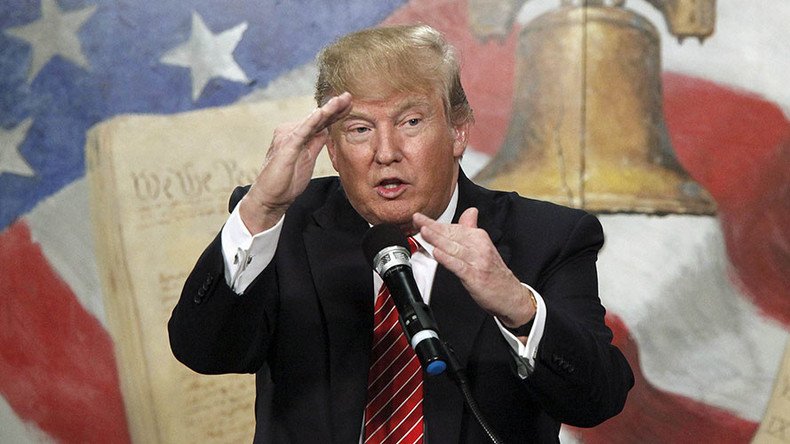 On Monday afternoon, British MPs are taking part in a landmark debate on whether to ban American business tycoon and politician Donald Trump from the country, after a petition calling for his exclusion gathered more than half a million signatures.
The debate, which began at 16:30 GMT and will last for three hours, will take place away from the main debate chamber in Westminster Hall, and MPs will not vote on the matter.
In response to the debate, Trump has threatened to withdraw millions of pounds of investment from Scotland if he is excluded from the country.
The initial petition was started in December, after Trump suggested that all Muslims should barred entry into the US until the authorities "figure out what's going on here" in the wake of a terrorist attack.
It states that Trump should be banned due to his "hate speech," and was passed for a debate by the Parliamentary Petitions Committee, which reviews all petitions which gather more than 100,000 signatures.
The debate is unlikely to result in direct action, but offers an opportunity for MPs to air their views on the Republican candidate.
They will also consider a counter-petition, which calls for Trump not to be banned from the UK, which was signed by 40,000 people.
In early January, Trump said he would withdraw £700 million of planned investment from Scotland if he is banned. On Monday, a spokesperson for Trump's business in Scotland said the debate was "absurd" and a waste of time.
"It is absurd that valuable parliamentary time is being wasted debating a matter raised as part of the American presidential election," she said.
"For the UK to consider banning someone who made a statement in America, about American borders during a US election campaign, is ridiculous."
"Our politicians would do better to debate how to solve the challenges facing our own country and its people, like the tens of thousands of job losses in the oil industry and the thousands more job cuts planned," she added.
Home Secretary Theresa May has suggested that anyone who preaches extremist messages could be banned from the UK, but has not specifically mentioned Trump.
Ahead of the debate, MP Tasmina Ahmed-Sheikh, from the Scottish National Party, told the BBC that May should enforce the ban.
"What I will be doing today is asking that Theresa May to exercise constancy in her approach to people who preach hatred," Ahmed-Sheikh said.
"If we wish to be taken seriously, the same rules should be applied regardless of who you are, because otherwise what we are saying is if you are a prospective presidential candidate it is alright to say what you want - and it isn't."
But Labour MP Paul Flynn said that implementing the ban would only strengthen Trump's support in the US.
"Sadly a ban would perversely help him in America, and that is where opinion matters. It would probably give him a halo of victimhood as a martyr and perversely that will attract more support for him," he said.
You can share this story on social media: