1.5mn benefit claimants 'could face destitution' – report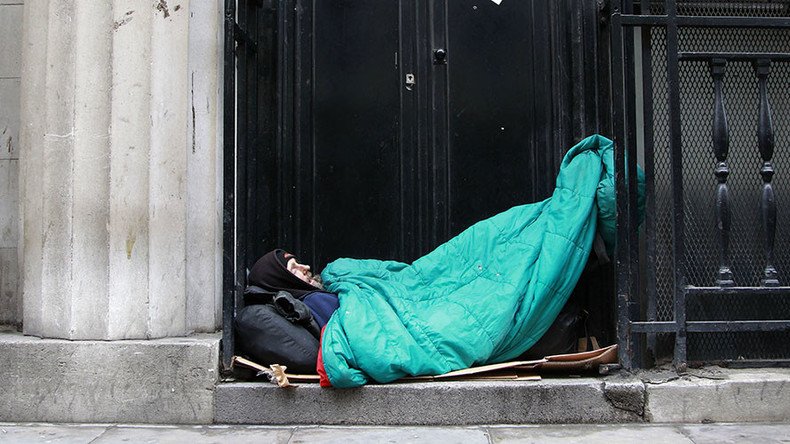 Close to 1.5 million benefit claimants could face destitution after disappearing from the welfare system, a former Labour minister has warned.
Benefit sanctions are being imposed on a "scale unknown since the Second World War" and the wellbeing and status of at a least 33 percent of those who have been targeted is "anybody's guess," said Work and Pensions Committee chairman Frank Field, an expert on the welfare state who has conducted inquiries for Tory-Lib Dem and Labour administrations.
Field warned the government is unaware of how many claimants have been left impoverished because it is failing to properly monitor why they have disappeared from the welfare system.
Following a forensic audit of the government's welfare reforms, he found that the whereabouts of 1.5 million UK residents who drop off the state's welfare rolls each year is unknown.
The study, which will be published in full by Civitas on Monday, was authored by Field and his senior parliamentary researcher Andrew Forsey.
It found that some of the welfare claimants who have been wiped off the system were hit by benefits sanctions, while others may be in jail or abroad.
The study said that roughly half a million benefits sanctions were imposed on welfare claimants in the financial year 2014/15. It called upon the government to conduct an urgent survey of those citizens whose benefits are scrapped annually under the government's sanctions regime.
The report welcomed the government's decision to trial a yellow card early warning scheme, but suggested the policy should be supplemented with non-financial sanctions for claimants who fail to meet the terms of their welfare program.
It suggested the Department for Work and Pensions (DWP) introduce trials whereby vulnerable people are offered a"grace period,"during which requirements imposed on them are softened to ease the "transition or acute difficulty."
The report also called for greater transparency, and urged the government to reveal how much expenditure is withdrawn under its benefits sanction regime.
"The number of sanctions was halved in the year leading up to the 2015 election, but it still remained at half a million. Sanctions are therefore being applied at a scale unknown since the Second World War, and the operation of sanctions on this scale makes for a most significant change in the social security system as it has existed in the post-war period," Field and Forsey wrote.
"A number of people – we know not how large a number – are being totally disconnected from both work and welfare, and risk being exposed to destitution."
"Justice calls for a major survey of what happens to the hundreds of thousands of people thrown off the welfare rolls each year through the sanctioning process."
Field and Forsey said it is absolutely unacceptable for the government to strip benefits from masses of people annually and not concern itself about how this group of people will survive.
"The ability to track the wellbeing of the whole population is now a part of being a grown up government, let alone a 'One Nation' government,'" they added.
The DWP said Forsey's and Field's claims are baseless.
"People leave the benefits system for many reasons, including when they go to work – which is good news," a DWP spokesperson told the BBC.
"It's extremely unlikely anyone would leave the benefit system because of a sanction. The truth is we have record employment and we spend £80 billon supporting millions of people who are unemployed or on low incomes."
Field resigned from the government under former Labour Prime Minister Tony Blair. In the wake of the 2010 election, he led an independent review into poverty in Britain for the Conservative-Liberal Democrat coalition government.
He also co-chaired the All-Party Parliamentary Inquiry into Hunger in Britain in 2015.
You can share this story on social media: