'Cruel, outdated laws': N. Irish woman faces life in prison in abortion case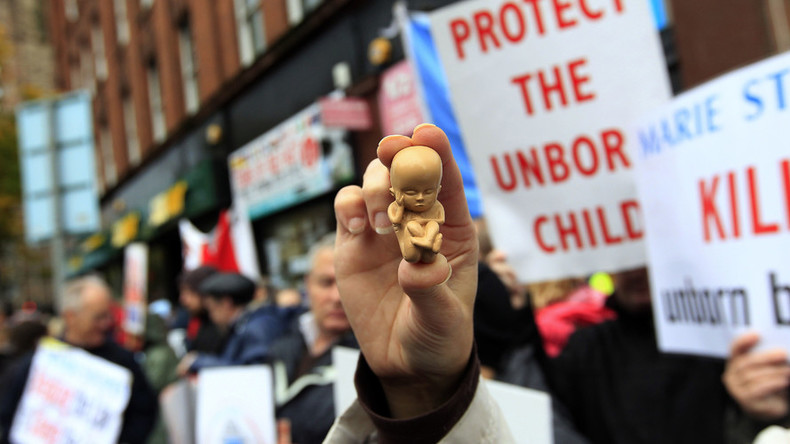 Northern Ireland must urgently reform its abortion laws, Amnesty International has said, after reports surfaced that a 21-year-old County Down woman is facing trial for taking "abortion pills."
The woman stands accused of attempting to terminate her own pregnancy by taking poison and of aiding someone else to "miscarry." Under an 1861 anti-abortion law, the woman, who cannot be named for legal reasons, faces life in prison.
The woman allegedly took the drugs Mifepristone and Misoprostol, which are commonly used to induce miscarriages in the early stages of pregnancy.
Amnesty International's Northern Ireland program director Patrick Corrigan said: "Making abortion illegal does not stop women in Northern Ireland needing or seeking alternative methods. Northern Ireland's draconian and discriminatory abortion laws treat ordinary women and girls like criminals.
"Women in Northern Ireland feel forced to take matters into their own hands, because there is no access to abortion for women who require it.
"[T]he Northern Ireland Executive must urgently reform its cruel and outdated abortion laws to bring them into line with at least the minimum international human rights standards."
Last summer, pro-choice campaigners took to the streets of Belfast after a Northern Irish court arrested and charged a woman who had helped her underage daughter obtain abortion medication.
In November, Belfast High Court ruled that Northern Ireland's near total ban on abortion is "incompatible with human rights." A few weeks later, however, the court held its ruling did not bind politicians at the devolved Northern Irish parliament to change the law.
More than 1,000 women travel from Northern Ireland to access abortion services in England each year, according to Department of Health figures. Northern Irish women are not eligible for National Health Service (NHS) funded abortions and must pay for the procedure at a cost of £900 (US$ 1,300).
You can share this story on social media: