Stormont won't be forced to legalize abortion despite human rights breach – High Court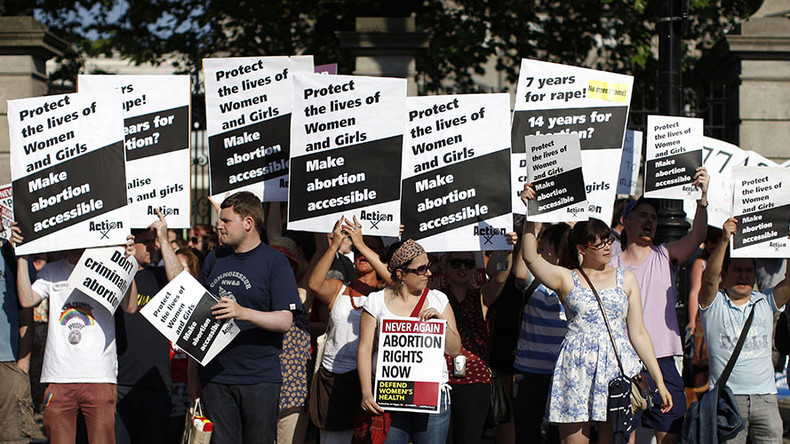 Belfast High Court has referred Northern Ireland's restrictive abortion law to the Northern Irish Assembly, despite ruling it is incompatible with human rights.
The decision comes just weeks after the Honorable Mr Justice Horner ruled Northern Ireland's near blanket ban on abortion breaches Article 8 of the European Convention on human rights—the right to family and private life.
Horner ruled on Wednesday morning that for November's ruling to be made effective, Stormont would need to usher in the new legislation. The ruling does not, however, bind the politicians at the devolved Northern Irish parliament to change the law.
"There is near unanimity among the parties in this judicial review, and that includes the commission, that for this court to try and read the impugned provisions in a Convention-compliant way would be a step too far," Judge Horner said.
Under the current rule, which dates back to 1861, anyone who performs an abortion— even in the cases of rape, incest or fatal fetal abnormality—can be jailed for life. The 1967 British Abortion Act, which is in force in all other parts of the UK, has never applied to Northern Ireland.
Rights groups have cautiously welcomed the ruling but are now calling on the Northern Ireland Assembly to deliver change.
Amnesty International's Northern Ireland program director, Patrick Corrigan, said: "Today's High Court decision is a clear call to the Northern Ireland Assembly to bring abortion laws into the 21st century."
"Today's ruling is a triumph for reason, compassion and human rights," he added.
The Northern Ireland Human Rights Commission (NIHRC), which brought the legal challenge to the High Court, also called on politicians to "bring forward legislation to reflect the judgment of the court."
Over the last five years more than 4,600 women and girls have traveled from Northern Ireland to have abortions in England and Wales, according to figures obtained from the Department of Health by Belfast-based journalism project Detail Data.
Chief Cmsr welcomes Courts decision to grant a declaration of incompatibility with human rights. Now falls to the Department N.I &Executive

— NIHRC (@NIHRC) December 16, 2015