Investigate civilian deaths linked to UK airstrikes, Fallon told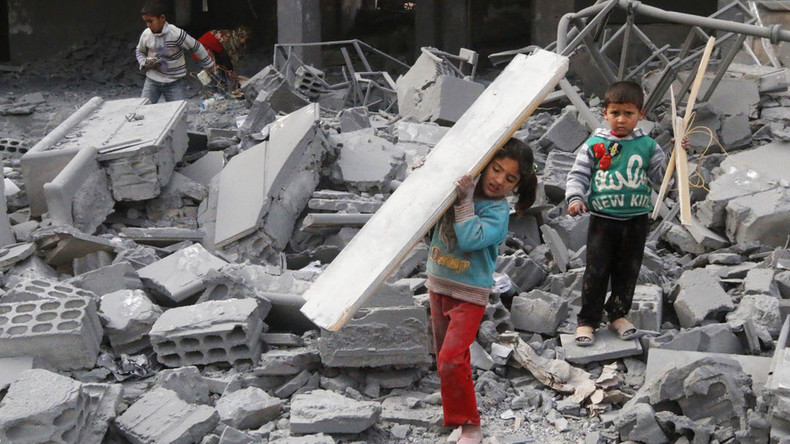 Monitoring group Airwars has presented Britain's defense secretary with evidence that could link multiple civilian deaths in Iraq to British airstrikes.
The group's director Chris Woods has written to defense secretary Michael Fallon requesting an investigation into the allegations.

The letter, seen by RT, says at least 88 non-combatants appear to have been killed by coalition forces in Iraq in December 2015. Woods, who is an investigative journalist with expertise in conflict studies, also sent Fallon a table detailing eight separate incidents that occurred in December in Iraq, which may have involved British aircraft.
His letter stated that each of these events unfolded in the Iraqi cities of Ramadi and Mosul on days when Britain's Royal Air Force (RAF) had conducted strikes there.
Woods said that the likely number of deaths from these incidents appeared to be between 23 and 32 non-combatants. While he acknowledged other coalition members also conducted strikes in these regions during the same period, he called on the government to investigate the matter.
Woods said each of the alleged incidents can be viewed in Airwars' casualty report data for 2015. He also told the defense secretary he had attached a summary of the events for reference.
The British government previously refused to accept evidence of civilian fatalities resulting from UK airstrikes in Iraq and Syria. Fallon, Prime Minister David Cameron and various government officials claimed there are no reports of civilian casualties in Iraq or Syria linked to British airstrikes.
However, Woods insisted in his letter this argument has now been discredited.
The Airwars director called upon the Ministry of Defense (MoD) to begin an inquiry into whether RAF aircraft were involved in any of the alleged atrocities in Ramadi and Mosul in December.
"While such an investigation would doubtless rely significantly upon pre- and post-strike aerial surveillance, we would urge you to broaden any inquiry to include other sources," he said.
Woods urged the government to release the findings of the investigation as soon as possible. He stressed that the exiled governors of Anbar and Nineveh provinces would be able to assist with such an inquiry. He also noted news agencies and social media sites often contain useful evidence relating to the impact of airstrikes.
The MoD confirmed it had received the letter from Airwars highlighting civilian casualties that may have stemmed from coalition action. But it denied any evidence had been provided to substantiate the group's allegations.
"In the hundreds of airstrikes conducted by the RAF there is no evidence of civilian casualties resulting from UK military action in Iraq or Syria," a spokesperson for the MoD told RT.
"All coalition strike missions are thoroughly reviewed and if there is any suggestion of civilian casualties then a full investigation will be conducted in conjunction with coalition authorities."
Speaking to RT on Tuesday, Woods said the MoD told Airwars it does not accept "external evidence of civilian casualties" from global media organizations, local casualty monitors or NGOs.
The investigative journalist also stressed that Airwars monitors alleged civilian casualties from Russian airstrikes. Woods claimed that 300 events leading up to December 31 2015 appeared to indicate that Russian forces had been responsible for the deaths of hundreds of civilians in Iraq and Syria.
Airwars describes itself as a non-profit transparency project aimed at tracking and archiving the war against Islamic State (IS, formerly ISIS/ISIL) in Iraq and Syria. It argues independent and trustworthy monitoring of the conflict is essential given 12 coalition states are bombing militants in the region alongside Russian, Iraqi, Iranian and Syrian forces.
In addition to monitoring airstrikes in Iraq and Syria, it also seeks to report and follow up on credible claims of civilian casualties.
You can share this story on social media: