Britain's sale of arms to Saudi Arabia violates international law – lawyers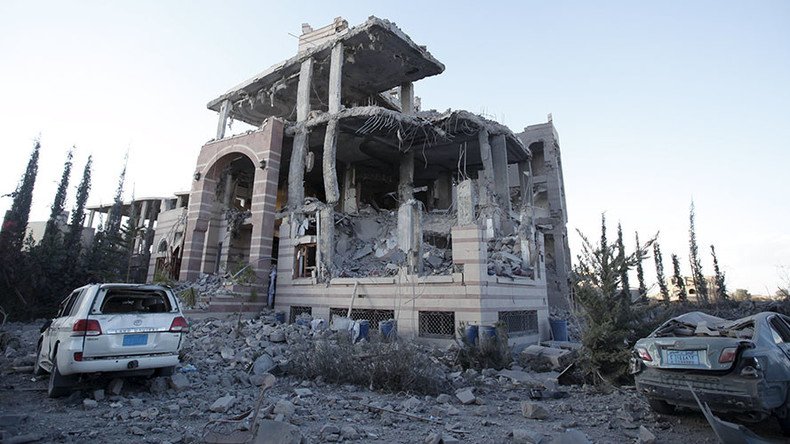 The British government has been accused of violating international law by enabling the export of British-made arms to Saudi Arabia, which may have been used to kill civilians.
In the face of mounting evidence that Saudi forces are breaching international law in Yemen, law firm Leigh Day has challenged the government's export of missiles and other arms to the Gulf state.
A letter issued by the firm to the government on Sunday highlights global organizations that have branded Saudi airstrikes in Yemen illegal. Among these are the European Parliament (EP) and an array of prominent human rights groups that have been monitoring Saudi Arabia's attacks on Yemen.
Leigh Day's 19-page letter, which was sent to the government on behalf of Campaign Against the Arms Trade (CAAT), condemns the targeting of civilians and non-combatants in Yemen, as well as the targeting of facilities vital for sustaining basic humanitarian needs. It also criticizes the disproportionate number of civilian casualties in Yemen and an overall failure to ensure unnecessary harm to civilians is avoided.
The letter says Saudi Arabia's airstrikes have destroyed culturally significant property in Yemen, and condemns a Saudi naval blockade, which is halting the flow of essential food and medicine into the crisis-ridden state.
Despite the gravity of these allegations, the British government has refused to suspend military licenses governing arms' exports to the Gulf state. It has also failed to call for an inquiry into whether Saudi Arabia has violated international law.
Leigh Day called on the government to confirm whether or not it accepts there is concrete evidence that Saudi Arabia's conduct in Yemen has breached international law. It also urged the government to verify if Secretary of State for Business, Innovation & Skills (BIS) Sajid Javid will suspend Britain's sale of arms to Saudi Arabia until a full review of their legality is carried out.
Leigh Day also urged Javid not to authorize further export licenses for Saudi Arabia until the inquiry is completed.
The law firm asked for a full response to its letter within two weeks. Failure to do this would spark legal proceedings against the government, forcing it to explain in the high court what steps it has undertaken to ensure British arms are not being used in violation of international law.
A BIS spokesperson confirmed the department's receipt of the letter, but told the Guardian it would not comment on the matter because of "ongoing legal action."
Leigh Day human rights lawyer Rosa Curling said the government has a legal duty to ensure arms and technological equipment exported from Britain are used in accordance with international law.
"Given the widespread and credible evidence that the Saudi authorities are breaching their international obligations in Yemen, we can see no credible basis upon which the UK government can lawfully continue to export arms to them," she said.
"We hope our client's letter will cause the government to reconsider its position and suspend all licenses with immediate effect pending a proper investigation into the issue."
Andrew Smith of Campaign Against the Arms Trade (CAAT) warns that British weapons are central to the military campaign that has "killed thousands of people, destroyed vital infrastructure and inflamed tensions in the region."
"The UK has been complicit in the destruction by continuing to support airstrikes and provide arms, despite strong and increasing evidence that war crimes are being committed," he said.
"These arms sales should never have been approved in the first place. The Saudi regime has an appalling human rights record and always has done."
Leigh Day's legal maneuver highlights Britain's lucrative arms trade with Saudi Arabia. Almost £6 billion worth of British arms have been licensed to the Gulf state since Prime Minister David Cameron took office in 2010.
There was pressure to suspend the UK's military exports to Saudi Arabia in July 2015, but the government flatly refused. Foreign Office minister Tobias Ellwood told parliament at the time the government had seen no credible evidence indicating the Saudi-led coalition had acted illegally.
By contrast, Amnesty International warned of the coalition's disgraceful disregard for civilian lives. The UN also expressed similar concern.
You can share this story on social media: