Banksy's 'Spy Booth' house in Cheltenham up for sale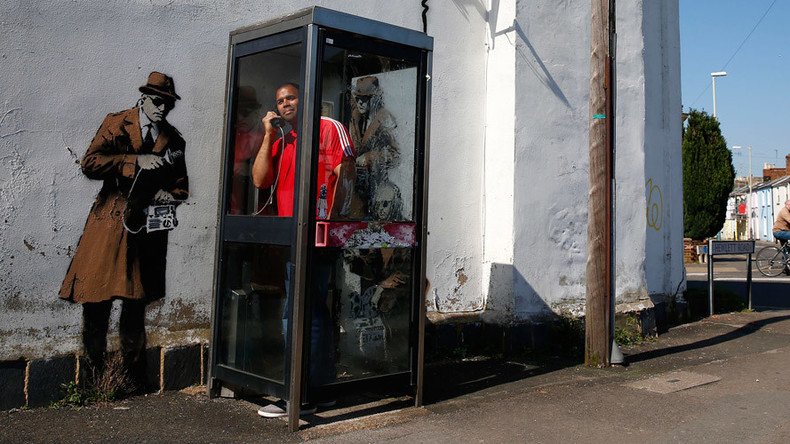 A Victorian house close to the headquarters of the British spy agency GCHQ, which also features one of the artist Banksy's most famous masterpieces, has gone on sale for £210,000.
The Grade II listed building in the English town of Cheltenham, became one of the most photographed homes in the UK after Banksy painted 'Spy Booth' on its exterior wall.
In an obvious jab at the nearby intelligence agency GCHQ, the mural depicts three "spies" with listening devices, surrounding an actual telephone box outside the house.
The painting, dubbed Spy Booth, appeared after revelations of mass surveillance programs by GCHQ and the US National Security Agency (NSA) by former intelligence contractor Edward Snowden.
Estate agents Peter Ball & Co have now listed the house on its website, describing it as "a rare opportunity to acquire a Grade II listed, Victorian, three bedroom end terrace property with a genuine 'Banksy' on the gable wall."
The estate agent warns the property will require "a comprehensive schedule of refurbishment."
Current owner David Possee spoke publicly about how the Banksy mural affected his life for the first time in March 2015.
Following a series of disputes with the local council, Possee told community radio station Swindon 105.5 that the local authority should buy the building from him, if they want to protect the artwork.
While Possee said he thought it was "quite nice" when he first saw it, the mural quickly became a headache.
"It all unraveled when this mural appeared on the side of the property," he said.
Possee has criticized Cheltenham Borough Council for expecting him to repair the cement render on the wall of his Grade-2 listed house, but then preventing him from removing it after the mural was also granted listed status.
He told Swindon 105.5: "They didn't come up with any sort of ideas. So I suggested Perspex but they said it's against listing consent."
"They just said 'you can't put that on there,' and I was threatened with a fine. They offered no alternative."
Possee went on to describe how discussions with the council became "messy."
"We had the scaffolding up and then we had a huge panic in Cheltenham thinking I was going to cut it out, which was not the case," he said.
"Suddenly there's a 28-day stop notice issued on me, so I couldn't repair the render, which they [fined] me for not repairing. So it was all starting to get a bit messy."
You can share this story on social media: