Human rights groups outside Saudi embassy demand Raif Badawi's release (VIDEO)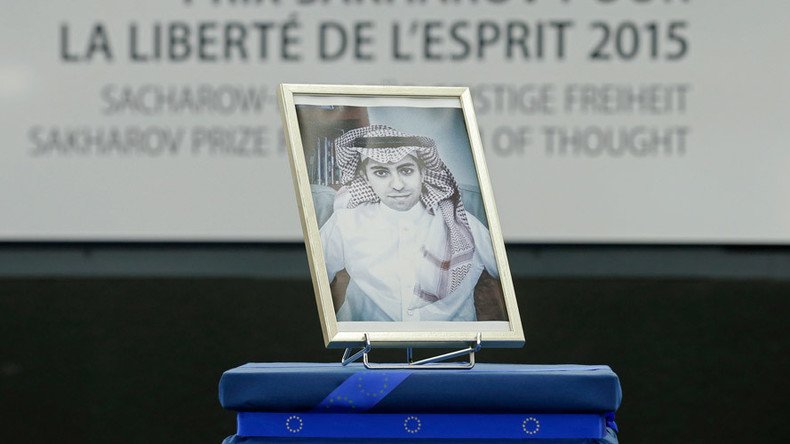 Hundreds of activists have descended on the Saudi Arabian Embassy in central London to hand over a petition signed by 250,000 people. It calls for the release of jailed activist and blogger Raif Badawi.
Marking one year since the 31-year-old was lashed 50 times in a public square in Jeddah, protesters will also hand over a separate petition demanding the release of his lawyer, who was sentenced to 15 years imprisonment for attempting to set up a human rights monitoring website.
In 2014, a Saudi court imprisoned Badawi for 10 years for "insulting Islam" and setting up a liberal web forum.
He was also sentenced to 1,000 lashes and ordered to pay a fine of 1 million riyals ($266,000, £133,000).
Human rights organization Amnesty International, leading the protest vigil on Friday, is urging the Saudi government to release the writer, who was awarded the EU's Sakharov prize last October.
The group has criticized Prime Minister David Cameron for responding inadequately, as Saudi Arabia is now taking a tougher line on dissent under King Salman, who came to the throne last year after the death of King Abdullah.
"Since the brutal flogging of Raif Badawi a year ago there's been an intensified crackdown in Saudi Arabia," Amnesty UK's director Kate Allen told the Guardian.
"We're again calling on the Saudi authorities to release Raif Badawi and his jailed lawyer Waleed Abu al-Khair, and we'd like to see the UK government speaking out far more forcefully over Saudi Arabia's appalling human rights record."
On Tuesday, Tobias Ellwood, the parliamentary under-secretary of state for foreign and Commonwealth affairs, said Saudi Arabia's attitude to human rights "can't be changed overnight."
He argued that any progress would need to "move at a pace that is acceptable to society."
In July, the Foreign Office expressed its concern about Badawi's case in a letter addressed to English Pen, a group that defends freedom of expression.
"The foreign secretary has regularly raised the case of Raif Badawi with the crown prince of Saudi Arabia and minister of interior, His Royal Highness Prince Mohammed bin Naif," the letter said.
Last week, it emerged that Badawi was in poor health after going on hunger strike in December in protest against his transfer to a new prison. As a result, he has been losing consciousness, according to the Next.
Saudi Arabia has recently executed 47 people for alleged terror offenses, including the prominent Shiite cleric Nimr al-Nimr. His execution has stirred particular outrage among the kingdom's critics, who say the cleric's death will "set the region on fire."
Most of those executed were said to have been involved in a series of attacks carried out by Al-Qaeda between 2003 and 2006.
You can share this story on social media: