Labour reshuffle: Corbyn leadership rattled by Shadow Cabinet resignations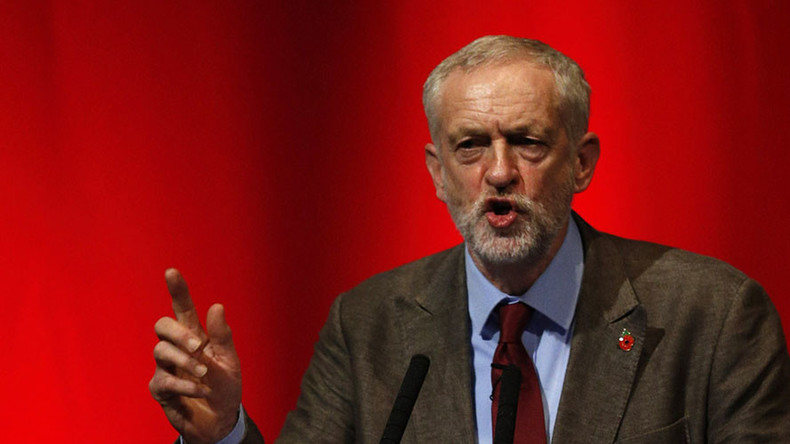 Labour Party leader Jeremy Corbyn has replaced his defense and Europe ministers but kept on his hawkish shadow foreign secretary Hilary Benn. In the wake of the reshuffle, three members of the Shadow Cabinet have resigned.
Conservative Campaign Headquarters has claimed the appointment of anti-Trident MP Emily Thornberry in the Shadow Cabinet reshuffle confirms the Labour Party as a threat to national security.
A subsequent tweet specifically stated the supposed threat was posed by Thornberry's anti-Trident views which, it claimed, would "weaken" the UK's defenses.
The tweeted comment on Wednesday morning echoes a claim made by David Cameron at the Tory Party conference in September that the election of Jeremy Corbyn as Labour leader, with a massive democratic mandate, posed a threat to Britain's security.
On Wednesday morning, shadow rail minister Jonathon Reynolds tweeted his resignation from the front benches, citing concerns about the Labour leader's relationship with the Stop the War Coalition.
"I cannot in good conscience endorse the world view of the Stop the War Coalition," he said, adding he believed them to be "fundamentally wrong" in their approach to UK security.
He said he agreed with sacked Europe minister Pat McFadden that it was wrong to "absolve ISIS [Islamic State]" for their actions in Paris.
Shadow foreign affairs minister Stephen Doughty was the second politician to resign on Wednesday and return to the backbenches. He did so live on air on the BBC's flagship Daily Politics show.
He claimed that Corbyn's team had lied over the dismissal of Pat McFadden.
A third MP, Kevan Jones, who was shadow minister for the armed forces, quit early Wednesday afternoon.
In a resignation letter, which he tweeted, Jones said he had been proud to serve the party in both opposition and government.
He said he did not agree with Corbyn's unilateralist position on nuclear weapons, but that he wished the leader well.
Meanwhile, Foreign Secretary Hilary Benn retained his role as shadow foreign secretary despite opposing Corbyn outright over the successful Syria bombing vote in early December.
The decision lends weight to shadow chancellor and Corbyn ally John McDonnell's claims on Tuesday that the reshuffle would not be a "night of the long knives" purge.
Other high-level changes include pro-Trident defense secretary Maria Eagle, who has been given the culture secretary job from which Blairite Michael Dugher has been removed. Anti-Trident MP Emily Thornberry will take over.
Deputy leader Tom Watson appeared supportive of Dugher, who claims his "straight talking" was the issue.
Watson told the Independent: "Michael Dugher is a rare politician – a talented working-class MP who hasn't lost his strong Yorkshire roots.
"Politicians with his ability and commitment can make a difference in any role. Labour's loss in the Shadow Cabinet will be compensated by Michael's free thought on the back benches," Watson added.
Alongside Dugher, one of the most vocal casualties has been Pat McFadden, formerly Europe minister, who is widely viewed as having been cut for lack of loyalty and public attacks on Corbyn in the wake of the Paris terror attacks in November 2015.
McFadden, a Blairite loyalist, made comments about a rapidly withdrawn Stop the War Coalition blog claiming the attacks which killed 130 people were a case of the West "reaping the whirlwind" of foreign wars. His intervention was seen by some as a coded attack on Corbyn.
Others pointed to the substantial authority Corbyn derives from his mandate.
Labour MP Cat Smith told the BBC Wednesday: "Jeremy Corbyn, as leader of the Labour Party, is within his rights to pick the people that he wants to serve in his shadow cabinet.
"And if he doesn't want people in the shadow cabinet who spend more time attacking the Labour Party leadership than the Tory benches opposite us, then he is perfectly within his rights to do that."
McFadden's role as Europe minister will be taken up by Pat Glass who previously served as education chief.
Apart from more junior ministerial appointments the reshuffle is now completed, leaving a favorable gender breakdown of 17 women and 14 men in leading shadow cabinet roles.
Speaking to the Guardian on Tuesday, John McDonnell indicated how things would work going forward.
"Jeremy will represent the parliamentary Labour Party on the frontbench. If there's a disagreement and people – on a free vote – want to express their views, they'll do it from the backbenches," he said.
You can share this story on social media: