Hilary 2016? Benn's 'career-defining' speech could see him challenge Corbyn for Labour leader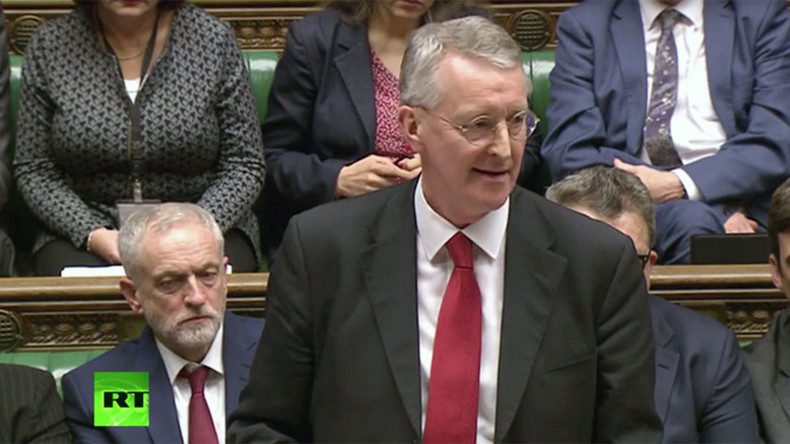 Shadow Foreign Secretary Hilary Benn was applauded by Tory and opposition MPs after giving an impassioned speech for airstrikes against ISIS in Syria. Tipped as the next Labour leader by pundits and bookies, RT profiles this increasingly outspoken hawk.
Benn's speech echoed the rhetorical flourishes of his late father, the widely respected socialist and anti-war crusader Tony Benn. Here their resemblance ends, however. Hilary delivered an ardently pro-war speech on Wednesday night, inviting rapturous applause in the Commons – a rare breach of etiquette that even Speaker John Bercow tolerated.
In 14 minutes, Benn laid waste to Prime Minister David Cameron for labeling MPs opposed to military action "terrorist sympathizers," set out a moral case for war against Islamic State (formerly ISIS/ISIL) and harked back to Labour's historical tradition of resisting "fascism."
Although it marked a volte-face in Hilary Benn's previously stated anti-airstrikes position, the "career-defining" oratory has prompted some to question whether Benn could be a dark horse candidate for party leader if Jeremy Corbyn is ousted in a coup.
Given Benn's relative obscurity outside the Westminster bubble, RT offers the following profile.
A Benn, not a Bennite
Born into an aristocratic London family, Hilary Benn comes from a long line of liberal and left-wing parliamentarians. His great grandfather was a baronet and Liberal Party politician, while his grandfather was a Labour MP who served under Prime Minister Clement Atlee.
Hilary has only recently stepped out of the long shadow cast by his father, a former Labour cabinet minister and iconic left-wing figure.
Tony Benn, who served in the Royal Air Force (RAF) during the Second World War, was honorary president of the Stop the War coalition until his death in 2013. His supporters within the labor movement became known as "Bennites."
Hilary is not among them. Although the Leeds Central MP's domestic politics are generally center-left, his position on foreign policy is consistently hawkish.
Hilary has voted for every British military intervention put to parliament since the invasion of Afghanistan in 2001. In a 2007 interview with the New Statesman, Hilary said he stood by his decision to back the invasion of Iraq, despite Tony Blair's case for war – based on Saddam Hussein's non-existent WMDs – having fallen apart shortly after it began.
"In the end, I voted in the way I did because I thought it was the right thing to do. I respect those who take a different view," he said.
"I think if you look back over the history of Iraq – all the resolutions breached, all the slaughter that Saddam was responsible for – one of the questions we have to ask ourselves as a world is: Why weren't we more effective at dealing with it earlier?"
Tony Benn on war
Hilary's position could not be more different to his father's, who campaign with the Stop the War coalition from its inception in response to the 2001 invasion of Afghanistan.
Weeks before US and British forces launched Operation Enduring Freedom to "liberate" Iraq in 2003, Tony Benn flew to Baghdad to ask Iraqi dictator Saddam Hussein in person if the country had weapons of mass destruction. Saddam's emphatic answer was "No."
Tony Benn told Saddam he was in Baghdad to sue for peace. "My only reason, I remember the war because I lost a brother. I never want to see another war," he said.
In the run-up to Wednesday's vote on airstrikes, a video clip of Tony Benn's 1992 Commons speech criticizing Britain's involvement in the first Gulf War went viral.
"We have forgotten that the story is part of an unhappy record of British relations in the Middle East," Benn told MPs on November 23, 1992.
"The double standards of British policy in the Middle East will be noticed by anyone in the Arab world who reads the report of today's debate. We did not take the same view as we took about Kuwait when Turkey invaded Cyprus or when the occupied territories were taken over by Israel."
"Considered in the light of what we now know, the Gulf War is seen to be a war for profit, oil and control of the region," he added.
Future Labour leader?
Hilary Benn's speech to MPs on Wednesday was greeted enthusiastically by the mainstream media, with pundits declaring it "outstanding."
Several commentators have speculated that those 14 minutes in the Commons could pave the way for Hilary's ascendancy to leader of the party in the event Corbyn stands down or is ousted from his post.
The Shadow Foreign Secretary has denied having designs on Corbyn's job, stating he has "no interest in being leader of the Labour Party." However, it is rumored that Hilary Benn threatened to quit his frontbench role if Corbyn refused to offer Labour MPs a free vote on airstrikes.
Cynics may point to Hilary Benn's volte-face over airstrikes as evidence of his plan to exploit division within the party for his own benefit.
He insisted – just days after the Paris attacks – that Labour would not back airstrikes, only to change his mind when polls suggested public support for war was waning.
Bookmaker William Hill is already offering odds of 12/1 that Hilary will be the next prime minister and 2/1 he will replace Corbyn as Labour leader. Whether by chance or by design, Hilary Benn has made a significant step into the limelight – and away from the values of his father.