Blind woman fitted with 'bionic eye' sees for first time in 6yrs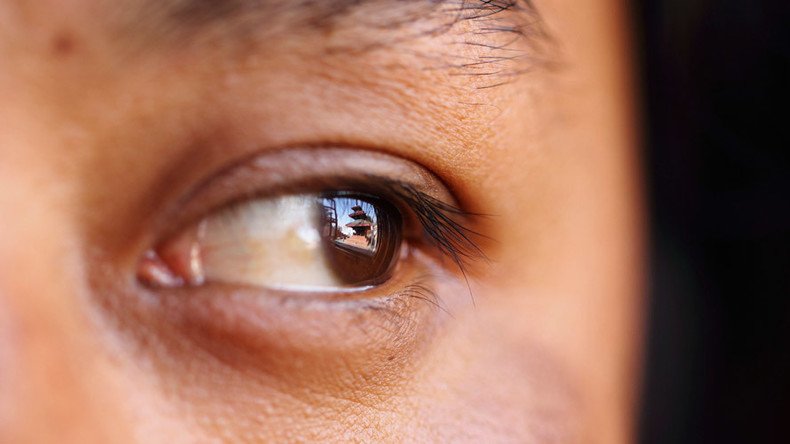 A British mother of three who was given a revolutionary 'bionic eye' has spoken of her delight at regaining her vision for the first time in over six years.
Rhian Lewis, 49, was offered the retinal implant as part of a trial at the Oxford Eye Hospital. Surgeons based there fitted a tiny electronic chip at the back of her right eye's retina in a bid to restore her sight.
Cardiff-based Lewis has suffered from retinitis pigmentosa since she was five years old. The degenerative disorder is inherited and causes gradual deterioration of photoreceptors in the retina, which are responsible for detecting light. The disease can result in blindness and affects one in 3-4,000 people across the UK.
Lewis is totally blind in her right eye and almost completely blind in her left eye. The retinal implant she received was manufactured by a German company, and was fitted in her eye in June. Operations to implant the electronic chip typically take six to eight hours.
After the procedure, Lewis was delighted when she realized she could see. She said it felt like Christmas Day when she discovered she could read the time.
The electronic implant she received is just 3mm sq in size and contains roughly 15,000 light sensors that send pulsating electrical signals to the eye's nerve cells. It is hooked up to a mini computer that rests behind the ear underneath the skin, and resembles a hearing aid.
When the device is first activated, patients can detect light but generally can't distinguish shapes. However, over the course of several weeks their brains learn to interpret those flashes as objects. Although the images can appear grainy and in black and white, they hold the potential to change people's lives.
After Lewis' retinal implant was switched on, she said she saw flashes of light within seconds. As she ambled along the street some time later, she was able to make out a silver car drenched in sunlight.
Lewis can adjust the implant using dials on a wireless hand-held device. It allows her to manually control its sensitivity, frequency and contrast.
"The problem with having no sight is that you also lose your confidence because you lose your mobility," she said.
"It's simple things like shopping, clothes shopping, you don't know what you look like. It's been maybe eight years that I've had any sort of idea of what my children look like.
Now, when I locate something, especially like a spoon or a fork on the table, it's pure elation. I just get so excited that I've got something right."
Initially six patients were fitted with the first generation implant for up to twelve months to discern its effectiveness.
While the first chip was not designed for long-term use, its positive impact on patients sparked further developments of the device. Lewis was the first person outside of Germany to receive the latest version of the implant.
The study was led by the University of Oxford's Nuffield Laboratory of Ophthalmology in tandem with Oxford University Hospitals NHS Foundation Trust and Retina Implant AG.
Professor Robert MacLaren, who is leading the trial, said the restoration of sight to the blind is challenging. However, he stressed the benefits could be huge if the process is executed correctly.
"I am delighted that the trial has started so successfully with the excellent results we have had so far with Rhian," he said.
"It may not be enough to read things yet, but just enough to navigate would be sufficient," he added.
"It's an amazing process because what Rhian and others are trying to do is reactivate a part of the brain that hasn't been doing anything for the last 10 years or so and there is a lot of rehabilitation because basically they are learning to see again."
The moment Lewis discovered she had accurately told the time appears on BBC series 'Trust Me I'm A Doctor,' aired on Wednesday night.
You can share this story on social media: