Baby-boomers! Vagina sound system created for unborn babies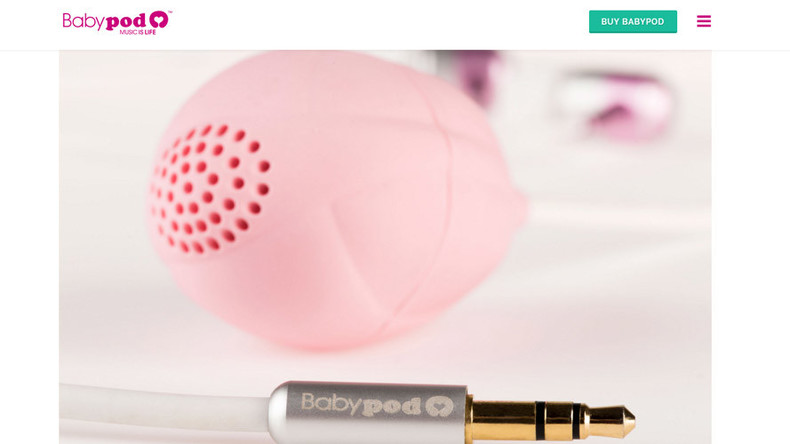 Teaching kids to appreciate the musical genius of Mozart can start even earlier now that pushy parents can get their hands on a set of speakers designed to be inserted into the vagina to stimulate fetal development.
Created by Spanish company Babypod, the speakers can be controlled by a phone app so the parents-to-be can control the volume and choice of music. Studies suggest so-called 'womb music' can produce a response from developing fetuses, and there are already a number of speakers on the market for mothers-to-be.
Babypod, however, says speakers that attach to pregnant women's bellies do not have an effect because the wall of the womb muffles the sound.
"Babies learn to speak in response to sound stimuli, especially melodic sound. Babypod is a device that stimulates before birth through music. With Babypod, babies learn to vocalize from the womb," they write on their website.
The pink speakers, which cost £110, reach a top sound level of 54 decibels. The company recommends parents use them from the 16th week of pregnancy onward, with each session lasting between 10 and 20 minutes.
Parents can also share their unborn baby's experience with a pair of split headphones which dangle out of the vagina while the speaker's in use.
Babypod launched in December at the "first concert for fetuses ever held in the world" they said, where ten pregnant women were "serenaded" with Christmas carols. The makers assure parents the vibrations will not harm the baby as "this is why sex toys are allowed in pregnancy."
The website features testimonials from happy users who claim scans of their unborn babies during a Babypod session show them singing along or responding to the music.
You can share this story on social media: