Mayoral spat: Tory Zac Goldsmith accuses Labour rival Sadiq Khan of 'playing race card'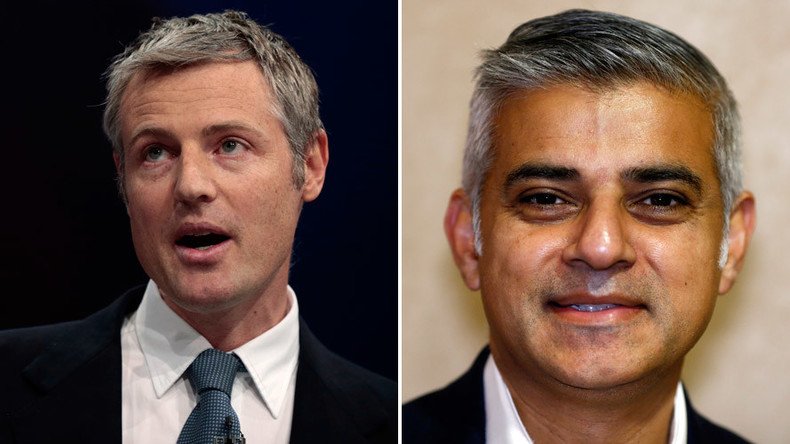 Conservative London mayoral candidate Zac Goldsmith has accused his Labour rival Sadiq Khan of 'playing the race card' after Khan took issue with Goldsmith's description of his politics as "radical and divisive."
Khan's team suggested the use of the term "radical" in reference to a Muslim candidate in Tory election leaflets released by Goldsmith in early December was a coded way of linking Khan to extremism.
"Calling someone divisive and radical, be very careful how that's perceived. You're playing with fire. When you say that about a candidate of Islamic faith, what are you implying? That will come back and bite you in the bum if you resort to that," Khan wrote in Sunday Times after the leaflets' release.
Goldsmith, MP for Richmond Park and North Kingston, however said he was referring to the "extraordinarily radical" changes happening in the Labour Party since Jeremy Corbyn was elected leader in September.
Goldsmith told BBC's Radio 4: "If I cannot use the term radical to describe what has happened to the Labour Party... then I don't know when I would be able to use the term.
"I think he is playing with fire. I don't think there is anything more divisive than playing the race card when clearly, unambiguously, it does not apply.
"It's very obvious that what I was referring to when I described him as a radical candidate as part of a radical process that has enveloped the Labour Party and taken our politics in an extraordinary direction."
Responding to Goldsmith's BBC interview, a spokesperson for Khan said: "It was the Zac Goldsmith campaign which put out the infamous dog-whistle leaflet branding Sadiq as 'radical' just because he happens to be a Muslim. And it was Zac Goldsmith's campaign which had to launch an investigation after alleged racist remarks from a Tory canvasser to a voter."
This row is the latest in a series of escalating exchanges between the two men vying for City Hall in May, when incumbent Boris Johnson has pledged to stand down.
Zac Goldsmith on the Today programme defending his description of Sadiq Khan as "Radical". 6th form level evasion & quibbling. Very poor.

— Jon Ward (@ditdotdat) January 5, 2016
Khan, MP for Tooting, has said he will not criticize his opponent for his privileged background but suggested the son of billionaire financier James Goldsmith may not have qualifications to be mayor of one of the world's financial capitals.
"London is one of the leading global commercial cities in the world, so I ask the question 'Do you want as Mayor of London ... someone who has never had a proper job, someone whose only job was one given you by your uncle to run his niche magazine?" he said.
For his part, Goldsmith has accused Khan of being a machine politician who flip-flops on major issues when politically convenient.
You can share this story on social media: