UK veterans may be prosecuted over Iraq 'war crimes' as claims grow tenfold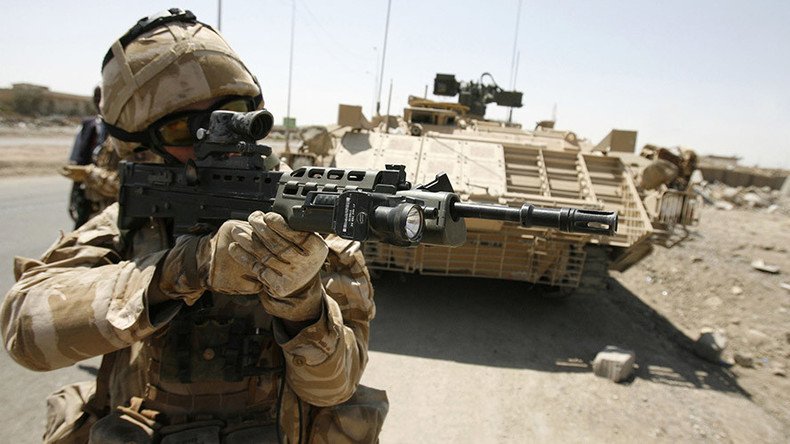 Allegations of unlawful killings and torture committed by British troops in Iraq have multiplied tenfold over the past five years, with the head of the unit established to investigate the cases saying the soldiers may face prosecution.
When the UK Ministry of Defence created the Iraq Historic Allegations Team (IHAT) in 2010 to look into accusations of abuse and torture allegedly committed by the British contingent in Iraq in 2003-06, the number of the victims it was dealing with was 152, yet in a matter of five years this number grew by almost 10 times, currently reaching at least 1,514, according to the latest IHAT quarterly update.
Of the total number of alleged victims, some 280 are victims of alleged unlawful killings and 1,235 are cases of ill-treatment, including alleged rape and torture.
Currently, only 25 unlawful killing cases (9 percent) allegedly committed by British forces are being investigated; the ill-treatment cases under investigation total 45 (less than 4 percent).
"There are serious allegations that we are investigating across the whole range of IHAT investigations, which incorporates homicide, where I feel there is significant evidence to be obtained to put a strong case before the Service Prosecuting Authority (SPA) to prosecute and charge," Mark Warwick, a former police detective in charge of the Iraq Historic Allegations Team (IHAT), told The Independent.
In the meantime, the International Criminal Court (ICC) is conducting a preliminary examination of more than 1,200 cases of war crimes allegedly committed by British forces in Iraq, of them nearly 50 cases of Iraqis dying in British custody.
The IHAT was supposed to complete its investigations by 2016 but it is clear that this time limit will not be met. Even though the team is going to be funded until 2019, even that timeframe would not guarantee that the job will get done.
"Over the next 12 to 18 months, we will review all the caseload to better understand the picture and then I think we can say whether 2019 seems realistic," Warwick said.
Having mentioned "lots of significant cases" with "serious allegations" being investigated right now, Mark Warwick said that "at the appropriate time" they will be discussed with the SPA regarding whether they could be brought to court as war crimes.
So far, after five years since the IHAT was established, not a single prosecution has been brought to court.
Human rights groups suspect the British government of soft-pedaling the whole issue.
"Things seem to still be moving at a snail's pace," The Independent cited the director of the human rights charity Redress, Carla Ferstman, as saying. "This cannot be a whitewash," she said, calling on to the British government to press IHAT to get the job done fast.
Mark Warwick explained the slow pace of the IHAT investigations with "the complexity, the volume and the geography aspects" of their work, stressing that the IHAT is "trying to conduct ethical investigations."
You can share this story on social media: