Squatters occupy old Royal Mint to protest homelessness, inequality, climate change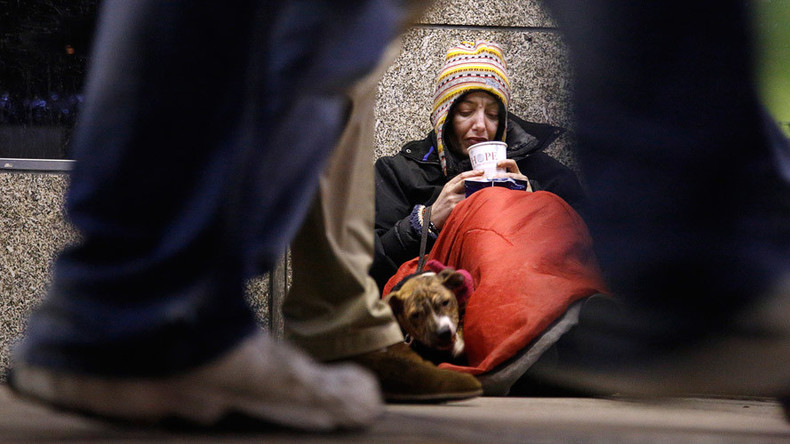 Activists protesting against homelessness, wealth inequality and climate change have occupied part of the former Royal Mint building opposite Tower Bridge in central London.
The group of squatters took over the building, which is no longer used as a mint but still holds great symbolic significance, on Monday afternoon and hung banners reading "System change not climate change" and "104,000 homeless children at Christmas."
The protesters chose the building to send a message to the financial institutions of Britain calling for change. The former mint has been lined up for redevelopment.
Pete Phoenix, who is taking part in the demonstration, told the Guardian: "We all need to live in a more sustainable way."
"The way financial systems work is not conducive to protecting the planet. There is a complex of four huge buildings here. They could be used to provide accommodation for hundreds of homeless people. We could turn this place into an environmental solutions center."
The group of squatters argue that buildings like the former mint are left empty as they await refurbishment and could be better used to provide short-term shelter for homeless people in the capital.
They say they have invited local people without homes to come and take shelter in the building, and want more people to take control of empty buildings in Britain.
"We want to highlight the fraudulent nature of the banks with this protest and find some solutions to homelessness. The state is not helping homeless people so we would urge those who need a roof over their heads to do what we did – find commercial buildings where the windows have been left open and walk in," Tom, a squatter, said.
The group said they intend to keep the building clean and tidy, as well as undertake repair work on damaged areas of the site. They will stay until they are evicted, they said.
The former Royal Mint was sold for £75 million (US$ 110 million) in April 2015 to RMC FH, a property development company.
On Tuesday the building's managers, CBRE, delivered a letter to the squatters warning them the water had not been tested and that the building may contain asbestos.