'Disaster looms' as 6,716 firefighters sacked in 5yrs – trade union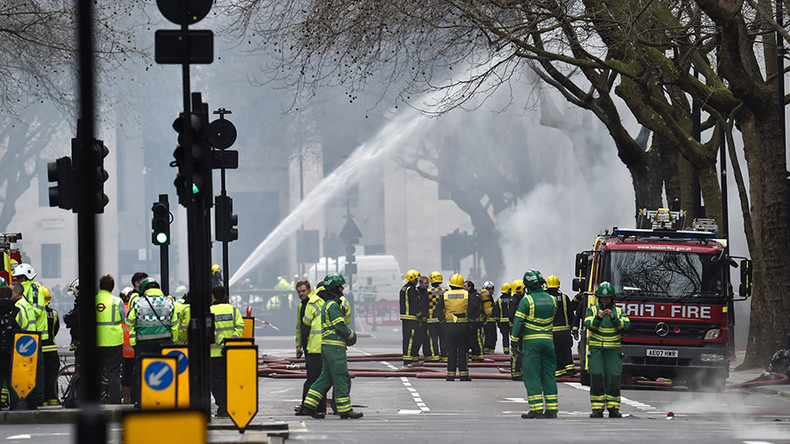 Fire and rescue services across the UK are heading for disaster due to harsh austerity measures, which have led to redundancies and station closures, a trade union has warned.
Research by the Fire Brigades Union (FBU) found the number of uniformed firefighters in England fell by 6,716 over the last five years – a 14.5 percent drop.
Northern England has suffered the worst cuts to funding, with the North West region seeing a 22.3 percent drop, Yorkshire and the Humber 17.4 percent, and the North East 17 percent. South East England saw cuts of 16.6 percent and London 13.9 percent.
The FBU said on Tuesday that although there has been little change in the number of fire stations open in England, there has been a "significant" shift in staffing, with many formerly whole-time stations now operating on a retained or mixed whole-time/retained basis.
London saw the biggest loss of infrastructure with 10 fire station closures over the past five years, while the nation as a whole lost 30 stations, or 2.1 percent.
Services across England lost a total of 101 fire engines, although some fire brigades increased their vehicle stock. Some local governments have replaced traditional fire engines with smaller firefighting vehicles with smaller crews.
FBU General Secretary Matt Wrack warned of further job losses and cuts to fire brigades next year as a result of the government's "ruthless austerity agenda."
"Our figures show that the fire and rescue service in England is effectively being dismantled, and the very worrying thing is that it's not going to end here – we know more cuts are on their way," he said.
"The fire and rescue service simply can't take any more cuts. How can this government possibly expect communities to believe they are being protected from fire and all the other risks posed by extreme weather, terrorist threats and all the other challenges facing us in our society?
"This government with its ruthless austerity agenda have put fire and rescue services on a trajectory that is frankly heading for a disaster in terms of public and firefighter safety.
"They are making it very clear that they care more about cost savings than they do about the safety of this country's citizens and of the firefighters who risk their own lives to protect them."
The FBU have called for greater investment in fire brigade flood response resources as communities in the north of England continue to suffer severe flooding.
Leeds City Council leader Judith Blake blasted the government on Sunday for having scrapped a £180 million (US$266 million) flood defense scheme for the city in 2011.