EXCLUSIVE: 'Unpaid internships perpetuate system of inequality,' say HRW interns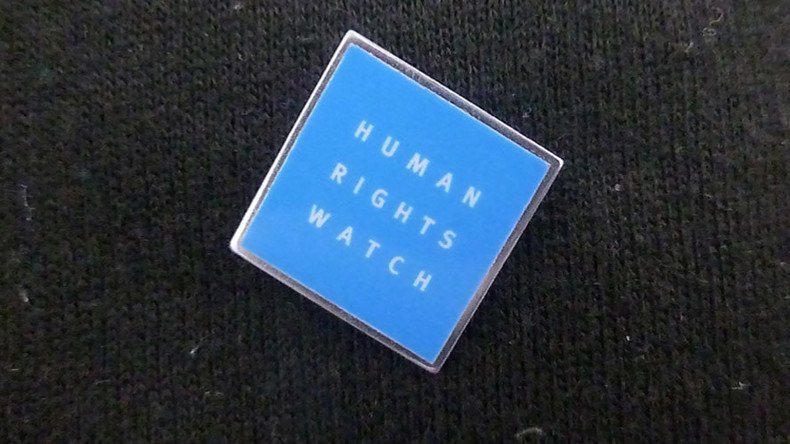 A group of Human Rights Watch (HRW) interns have submitted a damning internal report condemning one of the world's foremost human rights "standard bearers" for denying its own interns basic workers' rights, RT has learned.
Ten Brussels-based HRW interns sent the report, titled "Unpaid internships at Human Rights Watch: 'Are we worth so little when we do so much,'" to the organization's executive director Kenneth Roth in late November.
Last Thursday, after the group sent out a company-wide memo to the hundreds of interns on the HRW intern mailing list, the documents were shared with RT by one current intern on condition of anonymity.
Using the language and style of a typical HRW dispatch, the report accuses the organization, which employs some 400 paid staffers, of failing to live up to the very standards it promotes while perpetuating a system of inequality.
"That other NGOs use unpaid interns is not an excuse; that legal loopholes allow the practice is not a justification; that the supply of interns exceeds demand is not a defense," the report reads.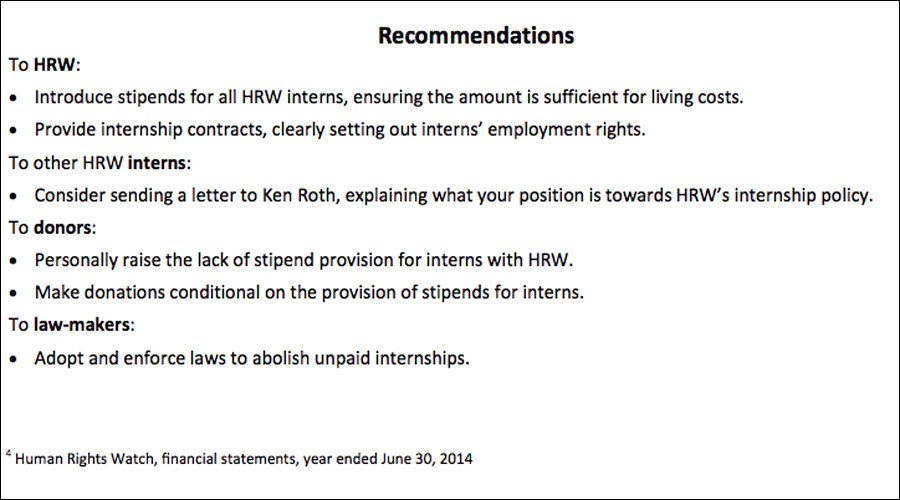 "If it is to deserve its reputation as a beacon of justice, defending the rights of every person with a clear conscience and impeccable record, Human Rights Watch must cease the exploitation of its interns."
Taking issue with what it dubs "the inequality of opportunity," the report says that taking on an unpaid internship is often a prerequisite for securing employment in the human rights NGO sphere.
"It is not a free choice when a young person, who wants to dedicate their career to human rights, has to apply for an unpaid internship," the Brussels group told Roth, who took home nearly $450,000 last year, according to Charity Navigator.
The group notes that HRW's offices are located in some of the most expensive cities in the world: London, New York, and Geneva, where earlier this year an unpaid UN intern sparked an international conversation about intern rights when he lived in a tent near Lake Geneva.
An unnamed intern quoted in the report said: "It is so ironic that HRW fights against social injustice but then perpetuates the system."
"Because of living costs and sometimes visas, their policy makes it impossible for many young middle-class and working-class people to intern with them and impossible for young people outside Europe and the US," the intern said.
At the start of an internship, all interns are asked to sign a so-called "Volunteer Agreement," a document which releases HRW from claims lodged by interns for any remuneration or wrongful dismissal.
READ MORE:Young Britons face worst economic prospects in generations, human rights study finds
One anonymous intern quoted in the report said of the Agreement: "[It] made me very angry. I arrived an intern, had to sign an agreement to say I was a volunteer, and then was referred to as an intern for the rest of my time at HRW."
"The word 'volunteer' in the Agreement was clearly a way for HRW to avoid the legal consequences of the country's national laws."
The report comes after HRW interns in New York raised the issue of remuneration in August. The Brussels group wrote a letter to Roth claiming no progress had been made to secure stipends for interns.
Responding to the report on behalf of Roth, EU Advocacy Director Lotte Leicht said although management "generally agrees" with the interns' concerns and is "not happy with the state of play," due to budget constraints, interns are unlikely to receive compensation from the organization any time soon.
"Given current budget constraints and financial commitments," Leicht wrote in an email sent to the Brussels group and obtained by RT, "it's extremely unlikely that we could take previously allocated funds from other HRW programs to fund interns, so dedicated additional funding is a prerequisite to paid internships."
Leicht doubled down on the importance of finding new sources of external funding, noting that use of even unrestricted funding is set in stone. As a possible solution, she proposes HRW form partnerships with universities willing to sponsor their students for the duration of an HRW internship.
"Funding always has to come from somewhere," she said.
Leicht claimed some of the teams in the Brussels office have decided to stop accepting unfunded interns starting next year.
In an emailed statement to RT, HRW echoed Leicht's proposals to look for alternative sources of funding for disadvantaged students and partner up with universities.
READ MORE:Pay inequality between bosses & workers 'widening' every year, study shows
"We are hoping to increase opportunities for qualified volunteers by seeking new funding. Given existing budget commitments, this is a prerequisite to moving to paid internships," the organization said.
"We are grateful for our interns' commitment and want to ensure that they can continue to advance our work to protect and promote human rights worldwide."
The interns are expected to meet with management in early January to further discuss their concerns. The 10 interns behind the report did not respond to RT's request for comment.
You can share this story on social media: