Cameron, Rebekah Brooks reunited at Rupert Murdoch's party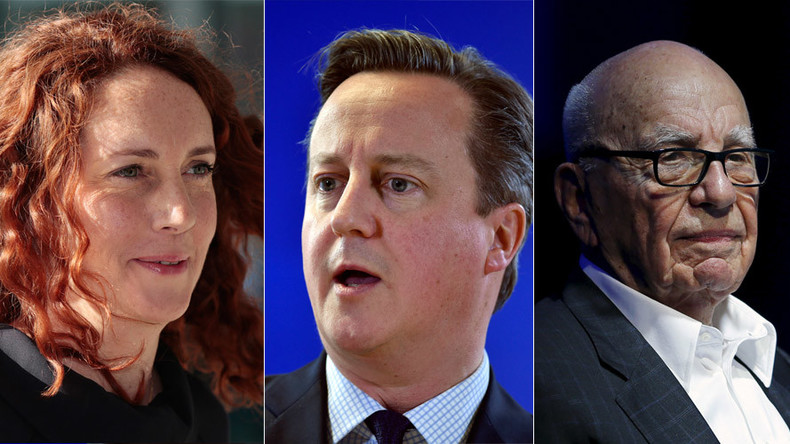 Four years after a phone-hacking scandal rocked Britain, Prime Minister David Cameron has been reunited with the cleared News UK executive Rebekah Brooks over drinks at Rupert Murdoch's London pad.
The party took place at Murdoch's flat in St James's, where Cameron was one of a "few dozen friends" to secure an invite.
It is thought to be the first time Cameron and media baron Murdoch have met since the Tories won a small majority and returned to power in May.
Brooks, whose Christmas party Cameron admitted to attending in 2010, was cleared of all charges of phone hacking in 2014.
Murdoch, who has long been seen as a kingmaker in British politics, owns a number of UK newspapers including the Times and the Sun. Switching his papers' allegiance from Labour to Conservative was key to Tory victory.
Although a certain amount of public distance has been maintained in recent times, one source in the Labour Party told the Daily Mail that Cameron's attendance is a sign Murdoch is "embracing him with open arms, celebrating his victory" after the May election.
During the Leveson inquiry into the phone-hacking scandal, it emerged Cameron had a close relationship with Brooks and her husband.
The inquiry found Brooks sent a text message to Cameron in 2009, reading: "But seriously I do understand the issue with the Times. Let's discuss over country supper soon."
The message came just before an important speech at the 2009 Conservative Party conference and shortly after Murdoch's Sun newspaper had abandoned Labour to back the Tories.
"I'm so rooting for you tomorrow not just as a proud friend but because professionally we are in this together," Brooks said in the text.
Murdoch's proximity to power has long been a cause for concern in the UK, as has the closeness of his executives.
In mid-December, it was reported executives from News Corp met with government ministers 10 times in the year leading up to March 2015, with the media mogul personally attending eight of those meetings.
The execs held three meetings with Chancellor George Osborne, three with then-Culture Secretary Sajid Javid and two with then-Education Secretary Michael Gove, according to an analysis of ministerial meetings published by the Media Reform Coalition on Tuesday.
Prime Minister David Cameron met with News Corp employees six times that same year.