Met firearms officer arrested in Jermaine Baker homicide probe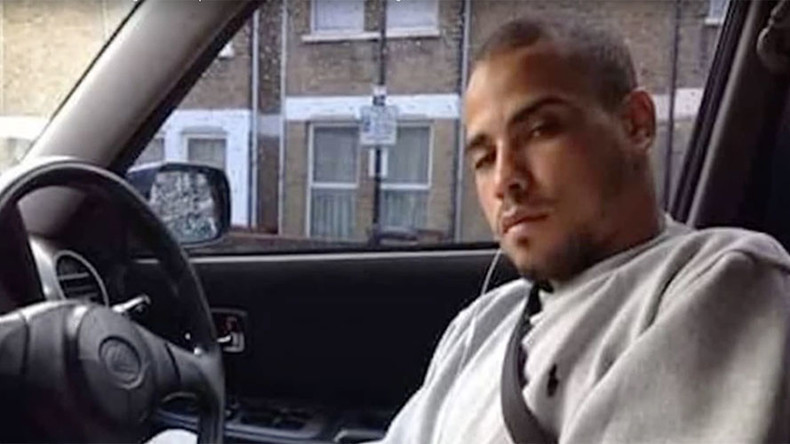 A firearms officer who shot and killed Jermaine Baker during a police operation last week has been arrested. Speaking to RT, Baker's friend claimed the father-of-two was "definitely murdered" while he slept in his parked car.
Senior officers from the Metropolitan Police and the Independent Police Complaints Commission (IPCC) were met with fury at a heated community meeting at Tottenham Town Hall on Thursday night called in the wake of the 28-year-old's death last Friday.
Police shot Baker dead as he sat in his black Audi on December 11, believing he was involved in a plot to spring two Turkish gangsters from a prison van outside Wood Green Crown Court.
In a dramatic development two days later, the officer responsible for pulling the trigger was suspended when the IPCC launched a homicide investigation into the incident.
'We want armed officers to work within the law'
In the meeting, organized by Scotland Yard to establish the "full facts" behind Baker's death, IPCC commissioners and Met officials bowed their heads to pay respects to the slayed father.
Met police Assistant Commissioner Helen King said: "The Metropolitan Police recognizes, and our armed officers recognize, that they have to work within the law, and be accountable to the law, which is what we want.
"It is in everyone's interests that our armed officers have support when they conduct their very difficult duties, where often they are having to take split-second decisions."
She was soon interrupted by residents who shouted, "Murderers," and "Shame on you."
'Arrested'
Many attendees cheered when IPCC commissioner Cindy Butts announced the officer who shot Baker had been arrested and interviewed under caution on Thursday afternoon.
"This afternoon a firearms officer has been arrested and interviewed under caution. All the other significant firearms officers have provided detailed statements as is normal practice," she said.
"The evidence we have at this stage does not mean that the officer definitively committed a criminal act and nor does it mean he will necessarily be charged with a criminal offense," she added.
However, she refused to disclose the grounds under which the officer was arrested.
Asked if she thought the Met had handled the operation well, Butts told RT: "We can't answer that, we are investigating the circumstances."
"At the scene was a black Audi. The evidence suggests that Mr Baker was in the car when he was shot. In that car was what appears to be a non-police issue firearm," Butts said.
"What I can tell you is we do not know if Jermaine was or not sleeping," she added.
Speaking to RT, a close friend of Baker, who wishes to remain anonymous and claims he was with the victim just hours before he died, said he believes the 28-year-old was "shot while sleeping."
He called for the Met to issue a public apology.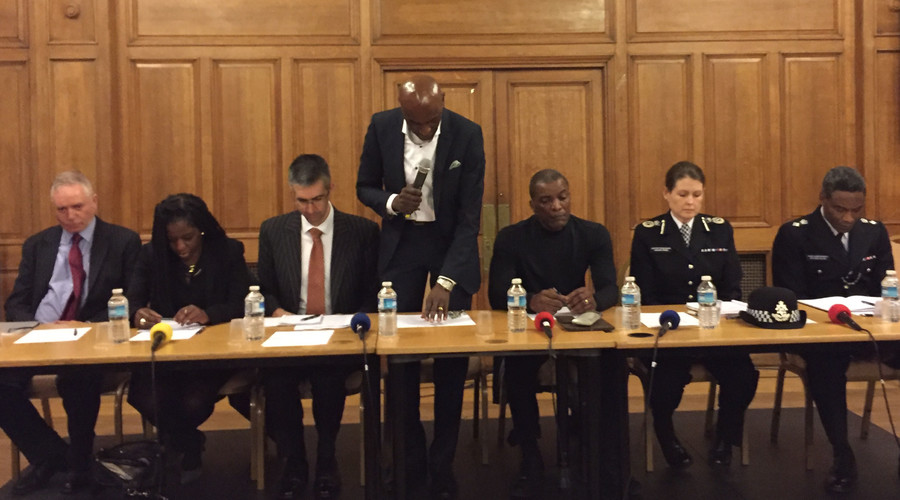 "They killed my friend, I'll take it to David Lammy [MP for Tottenham], I'll take it to the police, and I need an apology," the friend said.
"I'm devastated," he said, going on to say another riot, like those which swept England in 2011 in the wake of the police killing of Mark Duggan, "is needed."
When RT asked Assistant Commissioner King if she regrets what happened and whether the Met would be willing to make an apology, she said: "The Metropolitan Police regrets the fact that a young man from London, Jermaine Baker, is no longer with us."
"You liar," one member of the crowd shouted in response.
"He was sleeping in his car and you lot shot him, why did you shoot him?" a friend of Baker said.
Another man attending the meeting called for Met Commissioner Sir Bernard Hogan-Howe to resign.
'He was no gangster, poor reporting'
"I've known Baker for my whole life. He was nothing like how he was portrayed in the media, he was no gangster," Baker's friend told RT.
His comments come in response to several media reports that called Baker a "gangster."
Chief Superintendent Victor Olisa said police records and research do not indicate Baker was a gangster, suggesting the media made up the claims.
MP Lammy further criticized the media's "poor reporting" of the incident.
"There has been some very poor reporting, and that is why with the family's lawyer I contacted the attorney general, and the attorney general two days ago issued a notice to the media to remind them that they would be in contempt of court if they continue to write in the vein that some of them have written," he said.
'Body cameras'
In 2014, the Met announced its officers would start wearing body cameras as part of plans to improve transparency and accelerate convictions.
The announcement followed criticism of the force's handling of the death of Mark Duggan, the 29-year-old whose killing by police sparked the 2011 riots.
Several activists at the community meeting questioned why the officer who shot Baker was not wearing a body camera, despite this being a pre-planned operation.
British race relations activist Lee Jasper said he is "furious" the officer was not wearing a body camera.
"The body cameras have been offered as the salivation technology tool to rebuild confidence between black communities and the police," he told RT. "The whole issue of body cams is a sham."
Jasper claimed there is a "very strong indication" Baker was unlawfully killed.
"The IPCC certainly doesn't make decisions to enter a homicide investigation and to arrest an officer unless they have compelling and strong evidence," he said.
Tottenham Rights coordinator Stafford Scott urged police: "Do not shoot anybody or kill anybody until all officers are wearing body cameras."
However, on Tuesday, Met Commissioner Hogan-Howe said body cameras are "too big" to be worn by undercover officers.
"All of the officers who took part in the operation on Friday 11 December were doing a job, one that we as senior officers in the MPS asked of them," a Met police spokesman said.