Glastonbury sewage causes big stink in UK court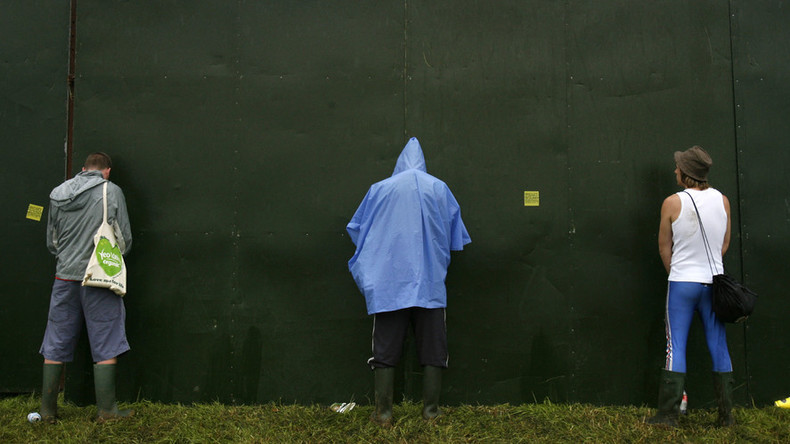 For every memorable Glastonbury performance - Orbital in '94, Bowie in 2000, Blur in 2009 - there is a huge pile of human waste. That darker, smellier side of the world's largest greenfield festival has turned up the noses of local prosecutors.
Glastonbury attracts 175,000 revellers (almost) each year to Worthy Farm in Somerset and uses approximately 3 million gallons of water.
Since what goes in must come out, you can only imagine the queue for the loo.
The festival skipped 2012 because there were not enough portable toilets due to the London Olympics, but it was 2014 when local council chiefs said festival organizers didn't get their s**t together when it came to handling waste, according to the Bristol Post.
A network of streams at the Worthy Farm site are under the watchful eye of the UK Environment Agency and accusations of environmental breaches by people not using designated toilets have been levied at the festival.
Glastonbury 2014 weather: After thunderstorm stopped the music, revellers warned of more lightning & torrential... http://t.co/m5rCSoYvYG

— Krystal Simpson (@kryssyskingdom) June 28, 2014
Last year was wet and muddy, save a few gorgeous moments of sun with legends like Robert Plant playing in the foreground, and it seems too many people were streaming into the bushes to make puddles of their own.
Strategic operations director Christopher Edwards appeared before Yeovil magistrates this week to represent the music and arts festival, which is accused of failing to meet environmental standards.
The charges are that organizers "caused or knowingly permitted a water discharge activity or groundwater activity, namely the discharge of human sewage derived from the Glastonbury Music Festival."
The case has been adjourned until the New Year.
Glastonbury provides festival-goers with a number of different types of toilets, including Compost Loos, Portaloos, and female urinals known as She-Pees.
In 2014, the same year the prosecution claim rules were breached, organizers shelled out £600,000 on odorless "super loos" and increased the number of Long-Drop toilets which store waste for composting.
"We have 31 units now, they cost £20,000 each, which is a lot of money but they don't have to be touched during the whole week of the festival," founder Michael Eavis said at the time. "There's no smell, a huge capacity - it's a fantastic achievement. It's fundamentally a huge improvement."
Eavis has been running the festival on and off since 1970 with a "leave no trace" ideology.