Cameron to urge SNP's Sturgeon to back Snoopers' Charter in fight against ISIS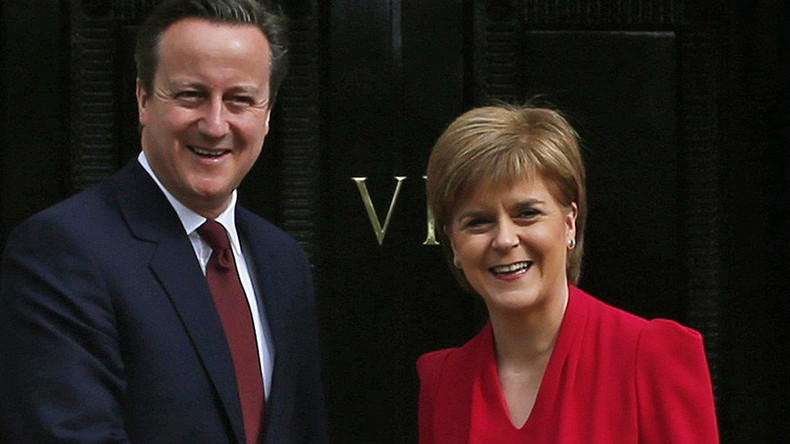 Prime Minister David Cameron is to discuss cooperation between England and Scotland on security issues with Scottish National Party (SNP) leader Nicola Sturgeon, urging her to encourage her MPs to back the Investigatory Powers Act.
Speaking before their Monday meeting, Cameron warned that cooperation between the SNP and the government is paramount to the safety of Britons in light of the threat posed by Islamic State (IS, formerly ISIS/ISIL) in the wake of the Paris terror attacks.
"We are looking at a number of issues, including the use of intelligence information, and we also need to ensure cooperation at a legislative level as well," he said.
"We cannot afford to give terrorists safe spaces in which to communicate and we must give the police and security services the tools they need to keep us safe in the 21st century. I am hopeful that when we debate the investigatory powers bill [nicknamed 'the Snoopers' Charter'] in the new year, we can achieve cross-party support for these fundamental concepts."
The SNP has been on the fence about the bill, which will be voted on by MPs in January, but has indicated some reservations with the legislation and mass surveillance.
Sturgeon, meanwhile, is expected to push Cameron to revisit the Trade Union Bill, which faces stiff opposition in Scotland. If passed, the bill would allow companies to hire agency staff to cover for strikers and impose new restrictions on picketing.
"To impose this bill on Scotland would be an unacceptable step," Sturgeon said ahead of the talks. The SNP has pushed to be excluded from the bill, which critics describe as a major crackdown on workers' rights.
Cameron and Sturgeon are to resume negotiations over the devolution of powers to Holyrood for the first time since May.
The SNP leader cautioned if the deal hits a sour note, Scotland may be hundreds of millions of pounds worse off.
"If the financial framework accompanying the new powers is wrong, Scotland could be worse off by hundreds of millions of pounds a year."
The framework for the implementation of Holyrood's new tax and welfare powers was meant to be published in the autumn, but was postponed to give the Treasury more time to produce a comprehensive plan.
"It is absolutely crucial that future Scottish governments can use the new tax and spending powers to create a fairer society and grow the economy, without losing out," Sturgeon said.