Blair denies 'protecting' Colonel Gaddafi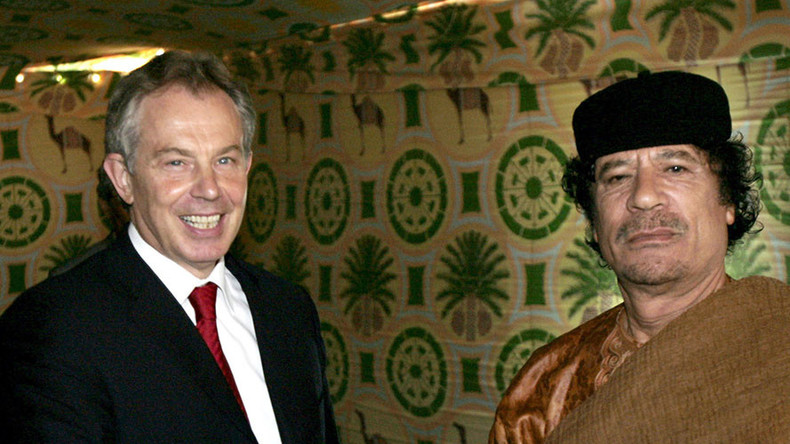 Former Prime Minister Tony Blair has denied trying to "protect" Colonel Gaddafi when he warned him to flee Libya before the country's conflict in 2011.
During a 90-minute speech in Parliament on Friday, Blair admitted to having "two or three" phone conversations within 24 hours with the Libyan dictator.
He warned Gaddafi to go to a "safe place" days before he was killed by his own people.
The ex-PM claims his aim was to get Gadaffi out of Libya so that a "peaceful transition could take place."
He told Gaddafi: "The absolute key thing is that the bloodshed and violence must stop. If you have a safe place to go then you should go there, because this will not end peacefully unless that happens."
"My concern was not for his safety," Mr Blair told the Foreign Affairs Select Committee. "My concern was to get him out of the situation so that a peaceful transition could take place."
During his time as prime minister, Blair supported the thaw in relations between the West and Colonel Gaddafi. He visited the leader in Libya in 2004. As part of the rapprochement, Libya also canceled its nuclear weapons program.
However, after the uprising, in which Gaddafi was killed, the relationship between the West and Libya came under heavy criticism after they signed numerous commercial deals.
Blair told the Commons that his decision to cooperate with Gaddafi was difficult, but he believed there was a "huge prize" in working together on matters such as security.
"When I went to see him, Lockerbie, Yvonne Fletcher, were absolutely in my mind and part of the conversation," he said.
"But I felt ultimately the game was worth it and I do believe it was worth it, but it's not to say I approve of what he did before or how he ran his country."
In 2011, when the Libyan uprising was met with violence by Gaddafi's forces, Prime Minister David Cameron made the decision to take part in internationally coordinated airstrikes against Gaddafi.
Blair was asked whether he believed that the countries that carried out airstrikes, France, the UK and the UK, had breached a mandate from the United Nations which authorized action to protect Libyan civilians.
The former PM said he would not criticize Cameron for his actions.
"Once you engage in a military action to protect people against a regime, the line between that and (regime change) becomes pretty thin."