Trump will not be banned from UK, despite 100,000-strong petition – Osborne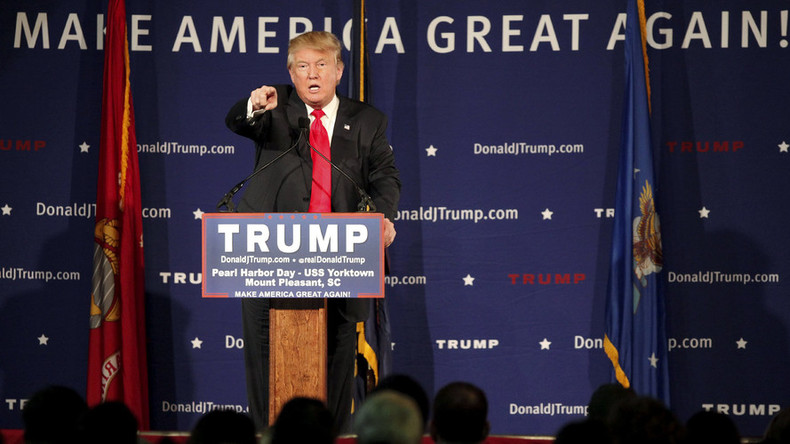 US Republican presidential hopeful Donald Trump will not be banned from the UK despite a petition demanding his exclusion reaching more than 100,000 signatures, according to Chancellor George Osborne.
Standing in for David Cameron during Wednesday's prime minister's questions, Osborne told the House of Commons the best way to tackle Trump and his views is with a "robust" discourse and effective democratic debate.
More than 100,000 Britons have signed a petition calling for US Republican presidential hopeful Donald Trump to be banned from the UK. Parliament is now obliged to consider the demands for debate.
The petition was created after Trump suggested all Muslims should be barred from entering America.
Trump's remarks were made in the wake of a mass shooting at a Californian care home, carried out by two Muslims who the FBI say had been radicalized.
Trump advocated a total shutdown of Muslims entering the US "until our country's representatives can figure out what is going on."
"Until we are able to determine and understand this problem and the dangerous threat it poses, our country cannot be the victims of horrendous attacks by people that believe only in jihad, and have no sense of reason or respect for human life," he said.
Even after a global backlash, Trump defended his comments, saying they were no worse than the actions of former President Franklin D. Roosevelt, who imprisoned over 110,000 people in government camps after the Japanese bombing of Pearl Harbor in 1941.
The online petition points out: "The UK has banned entry to many individuals for hate speech.
"If the United Kingdom is to continue applying the 'unacceptable behavior' criteria to those who wish to enter its borders, it must be fairly applied to the rich as well as poor, and the weak as well as powerful."
Trump has also sparked a row with senior UK figures after he suggested parts of London were so radicalized that police feared visiting them.
Prime Minister David Cameron criticized the remarks, saying it was "wrong" to question the ability of London's police. Cameron called Trump's proposed Muslim ban "divisive."
Pollsters YouGov also conducted a poll which suggested that the majority of Brits are opposed to his anti-Muslim policy.
Mayor of London Boris Johnson said the Republican frontrunner's comments were "ill-informed" and "complete and utter nonsense." He said the remarks were an insult to "London's proud history of tolerance and diversity."
He mocked Trump, saying "the only reason I wouldn't go to some parts of New York is the real risk of meeting Donald Trump."
Trump was also criticized by Scotland Yard, which in an unprecedented move released a statement rejecting his remarks.
"We would not normally dignify such comments with a response, however on this occasion we think it's important to state to Londoners that Mr Trump could not be more wrong."