'Cut antibiotics use in livestock to avert superbug catastrophe' – British health review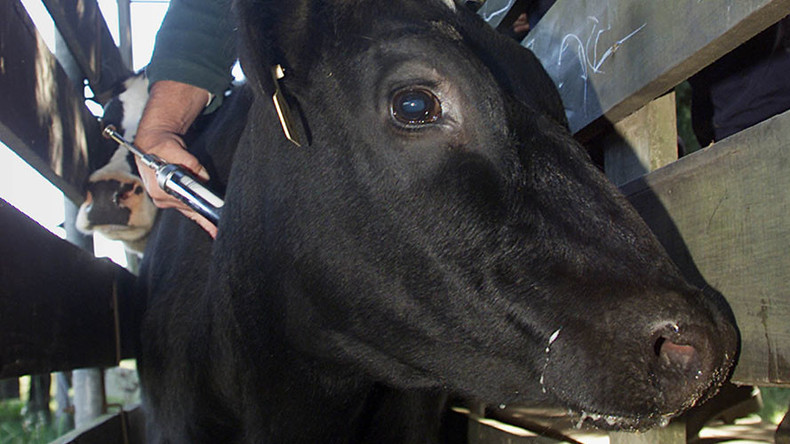 Urgent cuts must be made in the use of antibiotics in livestock farming as misuse of the drugs risks sparking a global public health crisis, a British-government commissioned review says.
World governments need to reach an internationally agreed target to reduce the use of antibiotics if the medicine is to retain its effectiveness in killing bacteria.
The review, led by former Goldman Sachs chief economist Jim O'Neill, suggested countries follow examples set by Denmark and the Netherlands.
Denmark uses an average of less than 50mg of antibiotics a year per kilogram of livestock – a figure O'Neill says "may be a good starting point for such a target."
"Denmark has shown that a very productive farming industry can be sustained alongside relatively low levels of antibiotic use," the review said.
In many countries the majority of antibiotics are used in livestock and not in humans, the study found.
In the United States for example, more than 70 percent of medically important antibiotics are used on animals, while humans use 30 percent.
"This creates a big resistance risk for everyone," O'Neill said. "It's time for policy makers to act on this."
Infectious disease expert and Wellcome Trust director Jeremy Farrar said urgent action is needed to combat a future crisis.
"We can now be certain that the health of livestock animals, and how we care for them, is inextricably linked to our own health and the effectiveness of medicines we rely on every day," he said in a statement.
"We need international governments, policy makers and the agricultural industry to coordinate their actions and set tangible targets for the reduction and better use of antibiotics in animals."
The review's recommendations come amid global alarm over the discovery in China of a gene – dubbed MCR-1 – that makes bacteria resistant to even the strongest available antibiotic.
Professor Timothy Walsh of the University of Cardiff's Institute of Infection & Immunity told the BBC last month the world is on the cusp of the "post-antibiotic era."
"All the key players are now in place to make the post-antibiotic world a reality," he said.
"If MCR-1 becomes global, which is a case of when not if, and the gene aligns itself with other antibiotic resistance genes, which is inevitable, then we will have very likely reached the start of the post-antibiotic era.
"At that point if a patient is seriously ill, say with E. coli, then there is virtually nothing you can do," he added.