'Tory cuts have weakened our response to Storm Desmond' – firefighters' union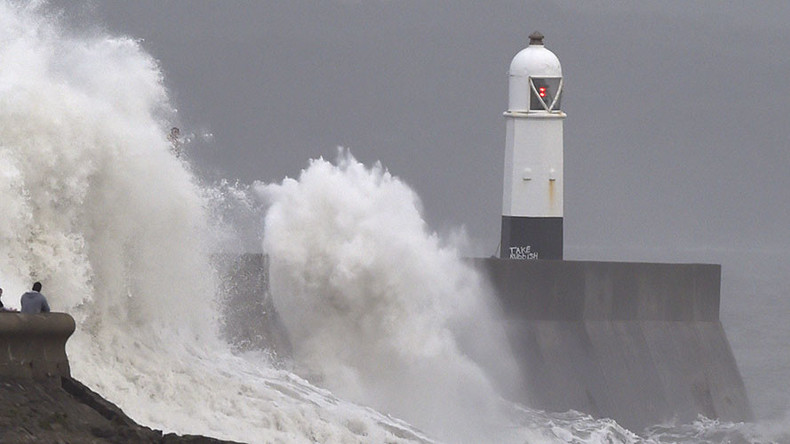 Firefighters tackling Storm Desmond have called on Prime Minister David Cameron to reverse government cuts to fire service budgets, claiming austerity has "hampered" their response to the floods and gales sweeping northern England.
Storm Desmond has left at least 60,000 homes in the UK without power since it swept in from the Atlantic.
Some 2,000 homes have been inundated with water, forcing families to leave, according to the Department for Environment, Food and Rural Affairs.
On Monday, police confirmed a body was found in the River Kent in Cumbria following reports of an elderly man falling into the water.
This is the second fatality reported as a result of the storm, which has also polluted water sources in the areas affected.
Environmental Agency (EA) chief executive Sir James Bevan told the BBC: "We had over a foot of rain within 24 hours in parts of Cumbria. That's more than the monthly average and almost certainly a record, and when that happened the rivers rose to such a level that in some parts of Cumbria they overtopped our flood [defenses]."
The Fire Brigades Union (FBU) warned that spending reductions and government cuts to fire services could "undermine" how emergency services react to future emergencies.
Speaking to IBT UK on Monday, the union's general secretary, Matt Wrack, said: "You need large numbers of people in incidents like this. The fire service is dealing every day with emergencies, but when you have floods you need a lot of resources all at once and the fact is all across those fire services there have been station closures or fire engines [have been] axed."
"What will we do the next time these floods happen? There will be even fewer firefighters and engines.
"Firefighters are effectively told to muddle on through. Unfortunately for the general public, people will see fire engines and fire fighters but what they don't know is if things could be any better or worse than they were before."
Since 2011, Cumbria Fire and Rescue service has seen a reduction of 87 firefighters, while the Lancashire service has seen a reduction of 241.
Lazonby fire station in Cumbria has been earmarked for closure, according to the FBU.
Expressing his concerns on Twitter, Cameron said: "My thoughts are with those affected by Storm Desmond. Teams are working to ensure a swift response and help for those who need it."
The PM chaired a Cobra emergency meeting on Monday to discuss the floods and organize an effective response.
He said he will "look again" at the nation's flood defenses and whether they need to be strengthened.
In a statement, Cumbria police said emergency services will continue to "work around the clock" to ensure the community is safe.
"Emergency services and partner agencies are continuing to work around the clock to ensure the safety of communities in the county and to help people as the water levels recede," a spokesperson for the force said.
"The number of flooded properties is still being assessed at this moment as the water recedes, the indications are that in Cumbria we have the following number of properties that have been flooded."