#PrayforSyria: Twitter reacts to Syria airstrikes vote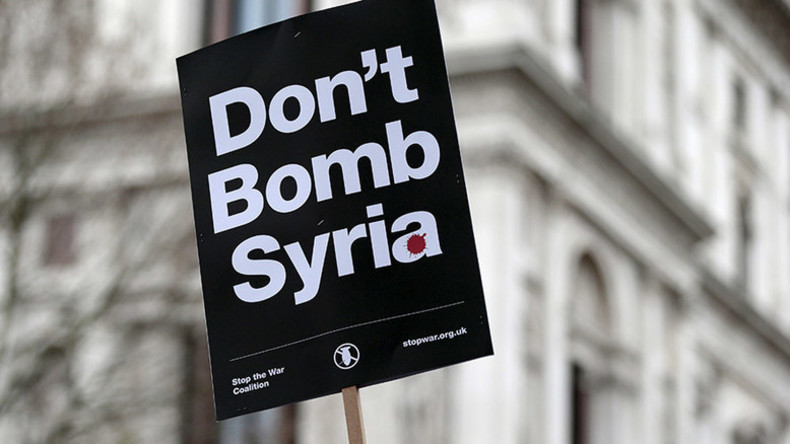 Just hours after British MPs backed the government's plans to extend airstrikes against Islamic State (IS, formerly ISIS/ISIL) from Iraq into Syria, social media reacted to the "disgusting decision" under the #PrayforSyria hashtag.
Following a heated 10-hour debate on Wednesday, MPs voted 397 to 223 to authorize UK airstrikes against IS in Syria.
Prime Minister David Cameron has claimed bombing Syria will make Britain safer.
However, Labour leader Jeremy Corbyn opposed the PM's stance, saying airstrikes would only make matters worse.
As of Thursday afternoon, the #PrayforSyria hashtag is trending on Twitter, with thousands of people saying the real terrorists are "the men in suits," referring to politicians who voted for the airstrikes.
Several Twitter users have made public apologies to Syrian civilians on behalf of the British government.
'The UK did not vote for this'
Singer-songwriter Barry Morrell said he "feels so terrible" for all the innocent Syrian people, families and children who are "about to be murdered."
"I'm so sorry from the bottom of my heart to the innocent Syrians that will be killed by my prime minister. We are monsters. #PrayforSyria," one user tweeted.
"Definitely need to #PrayForSyria but also #PrayForHumanity that one day there won't be people making such horrible decisions," another user added.
One Twitter user questioned why MPs call themselves human beings when they are "supporting the deaths of thousands of innocent people."
"#PrayForSyria – the UK as a nation did not vote for this," one user tweeted.
Another user said he is "disgusted" by his own country's actions.
A fan page for Arsenal Football Club said: "My thoughts and prayers goes to the innocent civilians who will be suffering at the UK's hands #PrayForSyria."
"The attack on Paris was so well staged in favor to get what we all witnessed tonight. They have won and got what they wanted. #PrayForSyria," one user said.
"You can bomb the world to pieces, but you'll never bomb the world into peace."
According to hashtag tracker Keyhole, #PrayforSyria became extremely popular on Thursday morning, reaching 1,000,231 people on Twitter.
Other Twitter users, including politicians, opted for the #DontBombSyria hashtag to condemn the government's decision.
Former Scottish First Minister Alex Salmond said: "The UK has deployed jets from Scotland to bomb Syria less than 12 hours since 57 out of 59 Scots MP rejected these actions. #DontBombSyria."