#SyriaVote: MPs vote 397 to 223 in favor of launching airstrikes against ISIS in Syria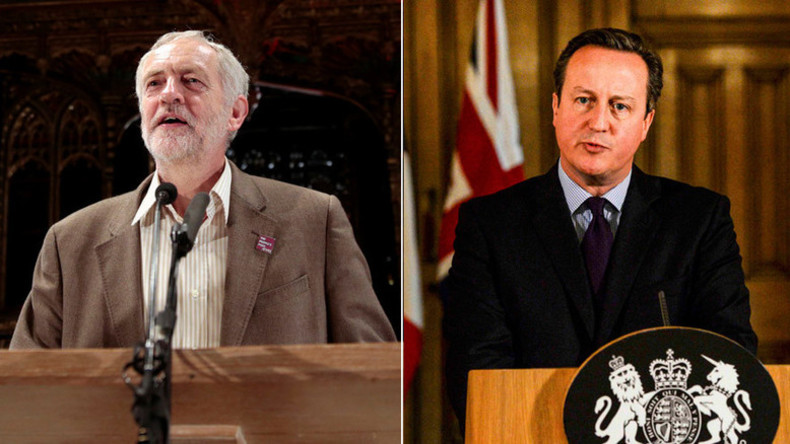 British MPs have voted 397 to 223 in favor of launching airstrikes against ISIS in Syria – a 174 majority.
03 December 2015

04:13 GMT

British jets have carried out their "first air strikes" on Syrian territory, Reuters reports, quoting a government source.

"A strike was made on Syria," and the UK's Tornado bombers have returned to the base, the source said without elaborating.

02 December 2015

23:25 GMT

23:02 GMT

Live updates are winding down here. You can read our snap coverage of the vote here.

22:57 GMT

There are reports that RAF bombers could attack ISIL in Syria as soon as Thursday, according to defense sources.

Defence sources saying RAF bombers currently targeting Iraq expected to start targeting Isis in Syria tomorrow

— George Parker (@GeorgeWParker) December 2, 2015

Earlier Captain Richard Davies, a Tornado pilot and station commander said:

"We have aircraft at a readiness state so they are prepared and ready to deploy."

"If a vote yes, if Tornados flying at that time and if there is a target in Syria UK bombing could happen overnight … If all those ducks are aligned and the aircraft are airborne at that moment and a target comes up they will go. It depends where they are. If we are airborne in Iraq and the vote is yes we could be targeting on that mission," the Guardian reported Davies saying.

22:40 GMT

Out at the protest, boos can be heard as the result is announced.

22:32 GMT

British MPs vote 397 to 223 in favor of launching airstrikes against ISIS in Syria, 174 majority.

After a tumultuous day of impassioned debate, the motion to extend airstrikes against IS from Iraq into Syria has passed with a 174 majority.

Some 67 Labour MPs voted in favor of strikes, swinging the vote in the government's favor.

Bombing against the extremist group's Syrian strongholds could begin imminently.

Earlier in the evening, Foreign Secretary Philip Hammond said raids could begin "very quickly" because jets are already stationed in the Middle East where they are carrying out attacks in Iraq.

22:23 GMT

Hilary Benn's speech has been widely heralded as the best speech of the session.

On Twitter Labour MPs, journalists, and onlookers have praised his oratory and his sentiment.

22:18 GMT

MPs vote NO to blocking military action in Syria.

Some 390 MPs voted against blocking military action in Syria, with 210 voting in favor.

22:10 GMT

The MPs are lining up to vote. A result is imminent.