LGBT activists self-harm, create 'rivers of blood' to protest Immigration Bill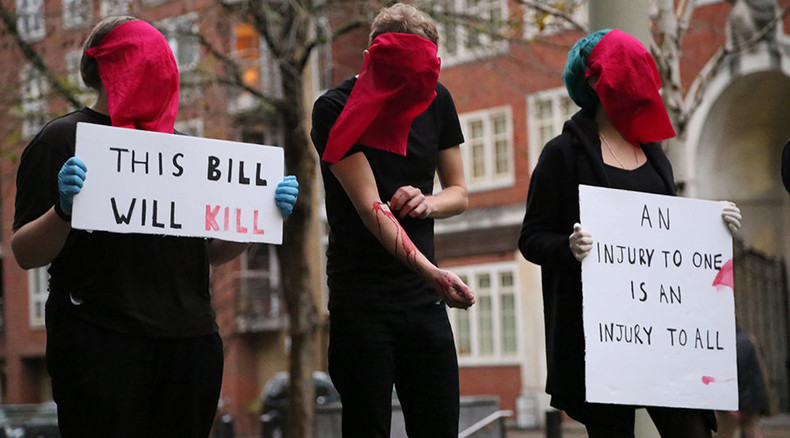 Lesbian and gay rights campaigners have cut their arms in a graphic protest outside the Home Office in opposition to the government's controversial Immigration Bill, which they say will increase discrimination and target vulnerable people on the brink of poverty.
The symbolic act was designed to create a "river of blood," in reference to the famous anti-immigration speech by Enoch Powell in 1968.
With masks covering their faces, activists from Lesbians and Gays support the Migrants (LGSM) stood over the ornate ponds in front of the Home Office and made small cuts in their arms.
The Immigration Bill will introduce strict measures for individuals attempting to seek asylum or work in the UK.
Landlords will be legally obliged to check the documents of their tenants and place sanctions on illegal workers and rogue employers. The bill aims to create a "hostile environment" for those living illegally in the country, LGSM say.
LGSM also say the bill could prove "deadly."
"We created 'rivers of blood' to show that the real river of blood flows from the Home Office. Our society is becoming divided, not by diversity, but by our government forcing ordinary people to become border guards," an LGSM activist told RT.
A fellow activist said it is the politicians who will have "blood on their hands."
"The MPs voting for the Immigration Bill today have blood on their hands. The Bill will leave people unable to access adequate housing and [will] force workers into perilous working conditions. People fleeing persecution will be left with nothing to live on."
Another activist from the group said the proposals will lead to greater discrimination and more social division in the UK.
"This bill is not just an attack on migrants, but will increase discrimination against minorities, especially ethnic minorities. As queer people we stand in solidarity with people who face the repression of the state and the media, having faced similar repression only a few decades ago."
The concerns presented by LGSM come as the Red Cross issued its own warning about the bill, stating that relatives of refugees settling in Britain are being separated from their families under UK law.
Currently the law states asylum seekers can only bring spouses and children under the age of 18.
The legislation is being challenged by MPs, including Liberal Democrat leader Tim Farron and senior Labour figure Yvette Cooper, who are backing an amendment to the bill which would allow the right of reunion to asylum seekers in the UK.
If the amendment is passed it could allow thousands more refugees into the UK on top of the 20,000 Prime Minister David Cameron has pledged to re-settle by 2020.