SAS are 'out of control,' say dead soldier's family
Britain's elite Special Forces are "out of control," according to the family of a soldier who died during the SAS regiment's brutal selection course.
The parents of Lance Corporal Edward Maher, 31, who died of heat-related injuries along with two other recruits during a Welsh training exercise in 2013, have submitted a harsh statement to the defense committee charged with reviewing the tragedy.
Read more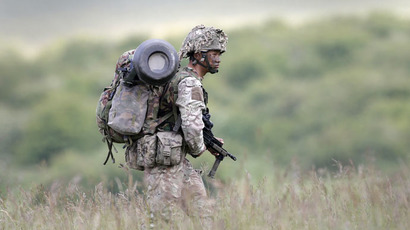 "Together with a culture that is indifferent to injury and death, this has resulted in an organization in which there is no imperative to behave responsibly and legally nor to learn from its mistakes," the paper by Edward and Marie Maher argues.
"We believe that the human condition is such that if behavior has no boundaries it will become chaotic, and that an organization that is not subject to control is, by definition, out of control."
They further argued the SAS has escaped penalty because of its unique status, which results in an overly permissive environment.
"Embracing risk lies at the very heart of the SAS - 'Who Dares Wins' extends even into training situations where recruits are asked to stretch themselves to the limit and where death has occurred as a result," the Maher family claim.
They wish to see the Corporate Manslaughter Act and the range of penalties it includes extended to cover incidents of negligence by the Special Forces unit.
They further want to see the SAS made accountable to parliament, and say their concerns focus on both regular SAS units and the training teams such as those that ran the ill-fated exercise in Brecon, Wales.
A 2015 coroner's report into the incident ruled there had been a "catalogue of very serious mistakes" made by those in charge of the training regime.
The arduous route march went ahead in temperatures of up to 28C (82F). In July coroner Louise Hunt heavily criticized the way the elite military course had been run.
"Those running this march were fundamentally under-briefed. They did not fully understand the risk of heat illness, and the emergency plan was inadequate," she said.
"I consider the briefing to those running the march to be inadequate as it failed to include weather conditions, the risk of heat injury and the reporting of reasons for medical withdrawals should they occur.
"It also failed to include plans to evacuate any casualties," she added.