'Don't rule out British boots on the ground in Syria,' says William Hague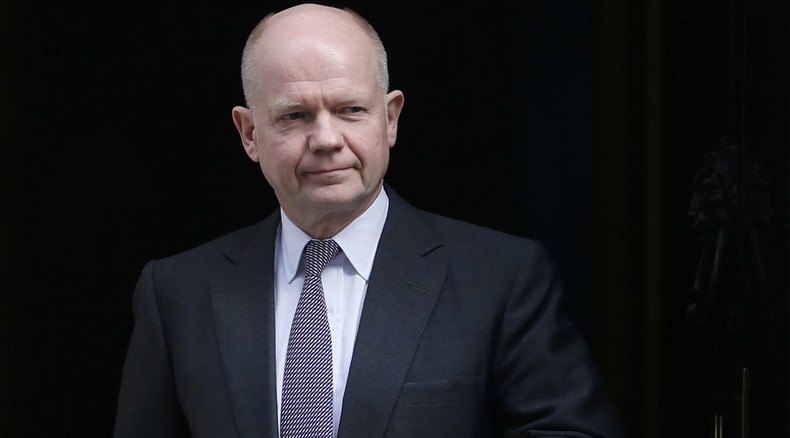 British authorities should not exclude the possibility of sending ground troops to Syria if they want to defeat Islamic State (IS, formerly ISIS/ISIL) former Foreign Secretary William Hague has suggested.
In a piece for the Telegraph, he argues the extremist group, which controls swathes of Syria and Iraq, cannot be destroyed without boots on the ground.
"That [military presence] should be Syrians, Iraqis or other Arabs, but it would be a mistake for Britain or other Western nations to rule out some of our own forces operating there if that can make the crucial difference to the outcome," he writes.
Hague's remarks come a day before Prime Minister David Cameron makes his case in the House of Commons for extending RAF airstrikes against Islamic State from Iraq into Syria. His case will be made before a vote next week.
Hague, who served as foreign secretary between 2010 and 2014, said the case for military operations in Syria is very different to that of the Iraq invasion in 2003.
He said the long-overdue Chilcot Inquiry report into the Iraq war will be "a time to acknowledge that we were wrong about the invasion of Iraq."
"We relied too much on evidence that turned out to be flimsy, and let our most important ally, the United States, become exhausted when there were many other battles to fight," he adds.
However, "the contrasting lessons of [the Rwandan genocide] and Iraq should show all of us that there is no simple, binary choice about being pro- or anti-intervention overseas," he writes.
In Rwanda, the international community failed to intervene, and hundreds of thousands of Tutsi people were slaughtered by members of the Hutu majority.
Hague also believes the memorial to the Rwandan genocide should be visited by "every pacifist, every 'stop the war' fanatic, every leader of the opposition who struggles with the concept of using the military at all, for it teaches us that there are circumstances where standing aside is incompatible with basic humanity, morality and mercy."
The former foreign secretary suggests one solution to the ongoing conflict would be to partition Syria and Iraq.
"The borders of Syria and Iraq were largely drawn by two British and French diplomats in 1916," he writes. "They should not be considered immutable."
"If the leaders of either country cannot construct a state where all communities can live together, it will be right to consider international support for their partition. Kurds have shown their ability to run their own affairs. A subdivided Syria might now be the only one that can be at peace."
Cameron has said he will not hold a vote on airstrikes until he is guaranteed support from MPs.
The Commons Foreign Affairs Select Committee has said it is crucial that adequate post-war planning is made. It said Cameron has yet to present a coherent strategy to tackle the extremist group.
Labour Party leader Jeremy Corbyn is expected to continue to oppose military intervention.
You can share this story on social media: