'Airstrikes cause thousands of casualties,' Cameron warned ahead of Syria vote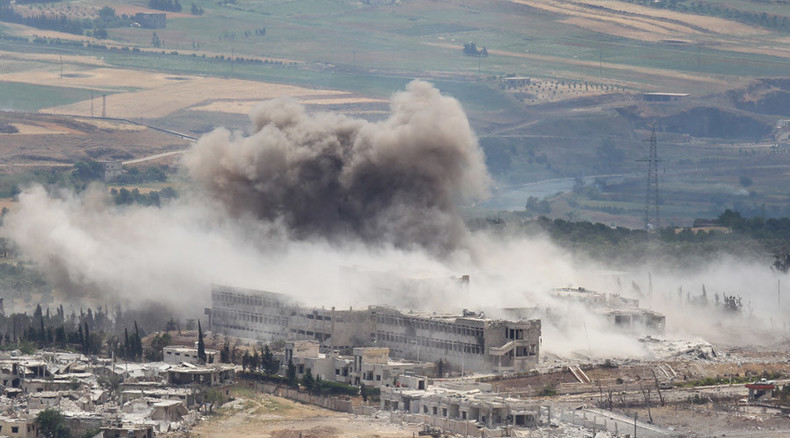 Advocacy groups have highlighted the thousands of civilian casualties likely to result from airstrikes this year alone as Prime Minister David Cameron prepares to make his case for attacking Islamic State (IS, formerly ISIS/ISIL) in Syria.
Airstrikes in populated areas caused 3,165 civilian deaths and injuries in the year up to August, according to Action on Armed Violence (AOAV).
Increasing scrutiny on civilian casualties is likely to impact on the debate over whether Britain extends its bombing mission against IS from Iraq into Syria. MPs could vote on military action within days of Cameron outlining his strategy on Thursday.
However, Parliament remains divided. Labour's internal strife over whether to back airstrikes continues, while the Liberal Democrats and Scottish National Party (SNP) have hinted they will only support military action if strict conditions are met.
The United States admitted for the first time last Friday that an airstrike in Iraq and Syria caused civilian casualties. At least four civilians, including a child, are likely to have been killed by the strike carried out on March 13 near al Hatra, in northern Iraq.
It follows the widely reported US bombing of a hospital run by NGO Doctors Without Borders, killing 22 people and injuring dozens more.
The admission has prompted AOAV to call on "all states to take the greatest precautions possible to avoid civilian death and injury when launching air attacks and for the proper investigation of allegations of civilian killings."
Will Labour back Syria airstrikes?
While a proportion of Labour MPs could back Cameron's proposed airstrikes against Syria, it is still unclear whether the PM will garner enough support to out-vote rebels in his own party. In 2013, Cameron was humiliated when 30 Tory rebels joined with Labour and other parties to oppose bombing forces loyal to Syrian President Bashar Assad.
Labour is also divided over whether to back further military intervention. In a sign of the party's fissures, the Momentum group, which supports Labour leader Jeremy Corbyn, suffered a backlash after urging activists to pressure MPs against supporting airstrikes.
Labour MPs Gavin Shuker questioned what right Momentum had to lobby MPs, while John Woodcock MP retweeted a claim suggesting the group had "overstepped the mark."
Momentum is already viewed with suspicion by many Labour MPs, with some accusing the group of plotting to "purge" those who are not Corbyn supporters.
In response to their online campaign, Labour peer Lord Cashman said MPs should not give in to "threats."
"Momentum is not part of the Labour Party, and MPs should follow their conscience. Not threats," he tweeted.
Despite this, Corbyn continues to enjoy strong support among Labour's grassroots membership.
A YouGov poll for the Times found 65 percent of Labour members and supporters who could vote in the leadership contest continue to support Corbyn as leader. Of this group, just 30 percent approve of the RAF taking part in airstrikes against Islamic State [IS, formerly ISIS/ISIL] in Syria, while 58 percent of British adults back such military action.
Among those who voted for Corbyn, support for the Labour leader is even higher at 86 percent. Among Labour voters in general, 56 percent believe he is doing "well" as Labour leader.
What about the SNP and Liberal Democrats?
Former SNP leader Alex Salmond MP has warned his party is "unconvinced" about the prospect of Britain joining the bombing campaign in Syria. The party's Foreign Affairs spokesman in Westminster believes airstrikes won't work.
"We'll listen, but as of now we're not convinced. Unless we hear something sensible and coherent from the prime minister it will be a 'No'," he said on Sunday.
Salmond said Cameron has failed to set out a strategy for taking the "real fight" to IS. "It's not a strategy – it's a replacement for a strategy," he said.
Liberal Democrat leader Tim Farron has set out five conditions that must be met before the party's eight MPs will back military action is Syria.
Farron said the UK government must follow an international legal framework, as follows: launch strikes as part of a wider diplomatic framework; put pressure on Gulf States to stop funding IS; have a post-IS plan in place, and publish a 2014 investigation into the Muslim Brotherhood and its support for terrorist groups in the UK.