Defense Review: Cameron & Corbyn clash over security measures after Paris attacks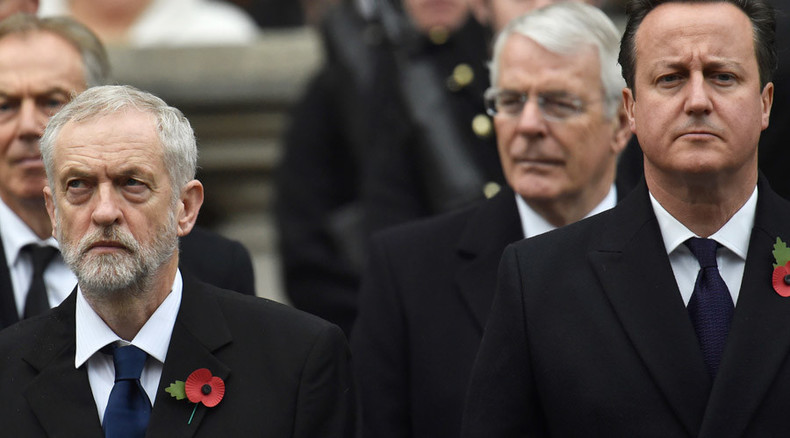 David Cameron and Labour leader Jeremy Corbyn clashed Monday as the Prime Minister unveiled his Strategic Defense and Security Review (SDSR) plans just hours after visiting the scene of the Paris terror attacks.
Cameron explained the government's position in Parliament on Monday afternoon. He emphasized the close relationship between Britain's economic and physical security and further explained his plans for new expeditionary forces, extra funding for the intelligence services and using diplomacy and cyber-security to influence the world.
He also announced he would return to parliament on Thursday to make the case for extending airstrikes from Iraq into Syria.
Responding to Cameron's comments, often to jeers from the government benches, Labour leader Jeremy Corbyn asked if the Prime Minister would undertake to secure funding for frontline police services which, he argued, are key to preventing terrorism.
Corbyn also raised the issue of global poverty, inequality, food security and human rights abuses around the world.
Cameron refused today to give me any guarantee not to cut police front line. He is gambling with the security of the British people.

— Jeremy Corbyn MP (@jeremycorbyn) November 23, 2015
He pointed to the dangerous legacy of past military intervention such as in Libya, where, he said, there is now "appalling chaos, persistent violence and the presence of ISIL."
"There is no contradiction between working for peace across the world and doing what is necessary to keep us safe at home."
He said Labour's own defense review would "seek to learn the lessons of Iraq, Afghanistan and Libya" and, referring to Trident, ask if it was "right to commit so much of the defense budget to at-sea nuclear patrols."
The Labour review, Corbyn added, "will argue that security is about much more than defense."
Earlier on Monday Cameron visited the site of the pairs terror attacks and held talks with French President Francois Hollande on the threat posed by Islamic State (IS, formerly ISIS/ISIL).
Addressing reporters at the Elysee Palace, Cameron pledged to stand "shoulder to shoulder" with France. He also said French jets carrying out airstrikes against Syrian jihadists could use the UK's Cyprus airbase RAF Akrotiri.
"The United Kingdom will do all in it's our power to support our friend and ally France to defeat this evil death cult," he said.
Cameron also reiterated his desire to see Britain join the fight in Syria.
"We must also do more to defeat ISIL in their heartlands in Syria and Iraq. Later this week in parliament I will set out our comprehensive strategy for tackling ISIL.
"I firmly support the action President Hollande has taken to strike ISIL in Syria and it is my firm conviction that Britain should do so too. Of course, that will be a decision for parliament to make," he added.
On Sunday, Cameron sketched his SDSR plans to secure Britain in the Daily Telegraph, touching on a number of similar theme to those he raised in Paris.
"As the murders on the streets of Paris reminded us so starkly, Islamic State is not some remote problem thousands of miles away; it is a direct threat to our security," Cameron wrote in the Telegraph newspaper on Sunday.
"So I want the British people to know they have a government that understands the importance of our national security and that we will take whatever actions are necessary to keep our country safe," he added.
A central strand of the review will be dealing with what he termed "the poisonous ideology of Islamist extremism" as well as refocusing foreign aid "to support fragile and broken states and regions, to prevent conflict and promote the golden thread of conditions that drive prosperity across the world: the rule of law, good governance and the growth of democracy."
Other important restructuring includes bolstering the counter-terrorism budget and the purchase of more F-35 fighter aircraft.
In the foreword to the SDSR, published by the Guardian, Cameron says: "At its [the strategy's] heart is an understanding that we cannot choose between conventional defenses against state-based threats and the need to counter threats that do not recognize national borders."
"Today we face both and we must respond to both."
In terms of conventional, offensive military capability, Cameron plans to introduce two new 5,000-strong 'strike' brigades by 2025 which will be able to project armed force thousands of miles away.
He is also expected to point out that Britain will be one of very few NATO member states to meet the symbolic commitment of spending 2 percent of gross domestic product (GDP) on defense.
In the wake of the Paris atrocities, which saw 130 people killed in multiple terror attacks, the drive toward extending UK airstrikes from Iraq into Syria has again been ramped up.
However, Defence Secretary Michael Fallon said on Monday it would still take time to build the case for Syria attacks among MPs.
"A lot of new MPs understandably want to be sure there is a political track to this as well – that we are working with everyone in the region to create a more comprehensive, moderate government in the region to bring long-term security after the striking has finished," Fallon told the Guardian on Monday.
He acknowledged questions remain over the nature of any force that could contest territory now in Islamic State possession.
Shadow Defence Secretary Maria Eagle said there could be no consensus among MPs until Cameron's plans had been laid out in full.
"We will deal with it once we have heard from the prime minister. It is all very well suggesting that a few bombs are going to deal with ISIL/Daesh [an alternative term for IS]. There is a coalition of 60 nations already doing that in Syria," Eagle told the Guardian.