18yo UK teenage girl becomes 1st to be prosecuted for…fighting AGAINST Islamic State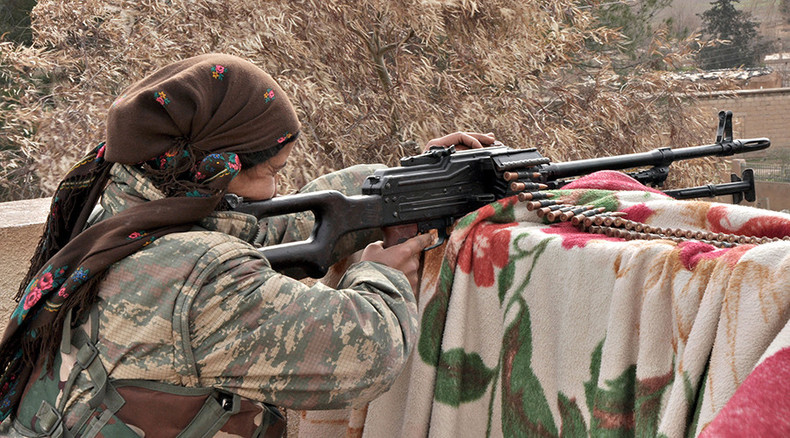 A British 18-year-old girl has become the first person to be convicted for attempting to join the campaign against ISIS in Syria. She is set to spend 21 months behind bars.
Silhan Özçelik from north London fled her home and took a train to Brussels, leaving a 25-minute farewell video address for her family.
In the video, she said she was eager to join the Kurdistan Workers' Party (PKK) women's military forces and fight against Islamic State (previously ISIS/ISIL).
She also left a written note to her family, which said: "I have been thinking about this for many years. I have been wanting to join for many years. Furthermore I am leaving my diary, and it is written in my diary … I wrote, every minute, how much I wanted to become a militant, how much I wanted to become a guerrilla, are all written in those pages."
The girl added that she was "passionately engaged" with the PKK's ideas, wanted to become a "bride of the mountains" and was drawn by the fact that women played an active role in the party.
The jury listening to her case in the Old Bailey Central Criminal Court were told that the teenager had wanted to join the PKK for five years, since she watched a film called "Comrade Beritan" about a PKK female guerrilla fighter, who killed herself jumping off a cliff, preferring death to being captured.
Also, posters and collages showing PKK slogans and female guerrillas were discovered in the girl's bedroom.
In court, however, Özçelik claimed she had fabricated the PKK story, as she wanted to run away with a 28-year-old man and avoid shame for her traditional Kurdish family.
The girl told the court that she believed making the video was "cool," and if things didn't work out with the man in Belgium, she would be welcomed back by her friends and family.
For her friends, Özçelik invented various reasons for her escape: a visit of an uncle, studies in Germany, traveling, or to flee a jealous ex-boyfriend.
The jury was told that despite no evidence showing that the girl had joined the PKK or traveled to Turkey or Syria, she wanted to carry out acts of terrorism. When Özçelik returned to the UK from Cologne in Germany, she was detained at Stansted airport near London.
Özçelik is 10 years junior to the youngest sibling in her family. Her father, a chef, and her mother, a textile factory machinist, received political asylum in the UK back in 1993.
The PKK, or Kurdistan Workers' Party, is banned in the UK as a terrorist organization, despite its fight against ISIS.
You can share this story on social media: